Virgin of Guadeloupe sculpture brings talents together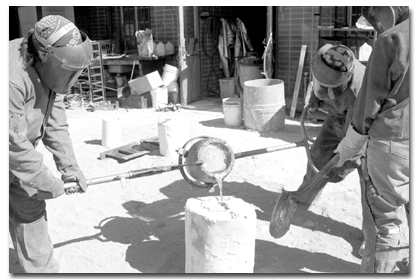 Arizona Daily Wildcat
Life-sized statue to be given to mission
In appreciation of the South Tucson culture, artists from the UA will donate a life-sized statue of the Virgin of Guadeloupe to the San Xavier Del Bac Mission on Saturday.
Damien Clark, a combined media senior who participated in the statue's creation, said the Mexican saint became especially important to him after a religious experience.
"The Virgin of Guadeloupe holds a special place in all our hearts," said Clark who has a tattoo of the icon. "She is the guardian of the poor and downtrodden, which all artists are."
Though he has no religious background, Rob Bauer, the primary artist in the project, said he identified with the Virgin of Guadeloupe - an apparition of the Virgin Mary who appeared to Mexican citizens in 1531.
"I saw it on a candle in a grocery store and thought it might be a vehicle to share," said Bauer, a sculpture senior. "I could have painted a smiley face but then I would not get to people."
Bauer attended the University of Arizona in 1989 and left two years later to race bicycles professionally. When he returned in 1998, Bauer wanted to retell his experiences through art.
"My life has been fantastic," Bauer said. "I wanted to bring joy to this world and to share it."
Because Bauer was not directly involved in the church, he wanted to make sure no one was offended by his creation.
"I tried to make her perfect and exact, even her thumbs form the shape of the cross, just like the Virgin," he said. "I wanted her to be perfect even to the biggest connoisseur."
Bauer asked Michele Tolbert, a classmate in a his Mexican-American studies class, to model for the sculpture.
"She had to sit under the plaster for hours while breathing through two McDonalds straws," he said.
Tolbert, a fine arts student, grew up in Tucson and visited the San Xavier Mission every week as a child. When Bauer decided to cast the Virgin of Guadeloupe in bronze, Tolbert was the person who put him in contact with the mission.
Since work on the statue began in February, Bauer, Clark and sculpture senior Troy Briere have spent almost every day on it.
"The project was spectacular from the get go," Bauer said. "It is the single most important thing I've ever made."
Bauer said that while the project has been successful, some aspects of the construction were more challenging and time-consuming.
He estimated that more than $1,500 was spent on materials, with bronze costing $2 per pound. Nevertheless, he said he could never sell the piece.
"I channeled all of myself into this project," he said. "If I would really make this and sell it, if I had to put a value on it, I wouldn't sell it for less than $10,000."
After all of Bauer's work, he still remained modest about his involvement with the project.
"The boys (Clark and Briere) are all heart," he said. "They are casting masters."
Clark said Bauer's creation of the Virgin of Guadeloupe statue has been a rewarding process for all the artists.
"Ninety percent of the project has been Rob," he said. "It's his baby, and we're all proud of him for it."
Beyond this project, there is a general feeling of camaraderie for everyone involved in sculpture at the university.
"There is a strong vibe through the whole arts department, and five to six people are at the center - of that, we're three of them," he said. "I don't know what it is, but there's a good group of people, a supportive faculty and a strong work ethic."
Each person in the department has his own concentration, and Briere said this has helped tremendously.
"The fact that all of us specialize in different areas - fabricating, welding, casting - we have all come to rely on each other for help," he said. "It boosts morale and energy in the department."
Rebecca Missel can be reached at catalyst@wildcat.arizona.edu.