National Champs!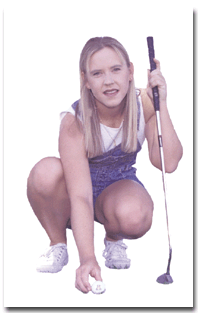 Wildcat File Photo
Arizona Daily Wildcat
Arizona Summer Wildcat
Daniels, Wildcats win national title by landslide
After dominating play for most of the season, the Arizona women's golf team captured UA's first national title of the 21st century at the NCAA Women's Golf National Championships. The tournament was held at Sunriver, Ore., from May 22-26.
It was the second national championship in the program's history.
"If we played well, I felt we would win the tournament," UA head coach Todd McCorkle said. "It was special for everybody."
Arizona's dominance of the competition was evident by a 21-stroke victory, the third largest margin in the history of the tournament.
"It was awesome," sophomore Cristina Baena said. "It was such a good feeling (to win). We were the best team, and we were the best friends."
Neither senior Jenna Daniels nor McCorkle thought the championship would come so easily, though.
"I didn't think that we'd win by 21 shots," Daniels said. "But we had a lot of talent. I guess anytime a team wins by 21, it's bound to be unexpected."
Following the tournament, McCorkle reveled in the large margin of victory.
"It's like having a 70-point lead in a football game," he said. "I want to have this feeling every season."
The Wildcats also dominated the individual portion of the tournament.
Daniels completed her Arizona career by shooting a 5-over-par 77 despite the tough conditions of the course. The San Diego native placed first individually, three strokes ahead of UA freshman Julia Kraschinski.
While Daniels' success impressed McCorkle, the second-year coach was quick to point out that the senior's success was deserved.
"Anyone that knows me knows the way I've talked about Jenna all year," he said, "She's a special athlete and someone who's close to me personally and as a player."
It was Kraschinski, competing in her first national championship tournament, who inspired both McCorkle and Daniels.
"I wouldn't say that Julia's success was a total surprise," McCorkle said. "But it was great to see her play so well in the biggest tournament of her life so far."
Daniels agreed.
"It's amazing that she came in and did so well," she said. "Julia's only 18 years old. I see nothing but great things for her. She has a lot of talent."
The tournament victory seemed fitting for Daniels, who suffered through three consecutive NCAA tournament losses prior to this year's victory.
"It's always nice to go out at the peak of your career," she said.
"Our team was ranked first going into the tournament in the three previous years and couldn't get the job done. It's a great feeling to win."
Despite losing Daniels, McCorkle is confident that the Wildcats will continue their dominance in future seasons.
"We've had some incredible recruiting," he said. "We've signed three great players and hope that they can continue a tradition. We're going to be a contender."
Daniels agreed, saying that her teammates have bright futures.
"Todd and everybody has worked incredibly hard," she said. "All of their hard work and dedication will pay off. We'll see a lot of titles in the future."
Ryan Finley can be reached at sports@wildcat.arizona.edu.