Res Life changes network policy to crack down on Napster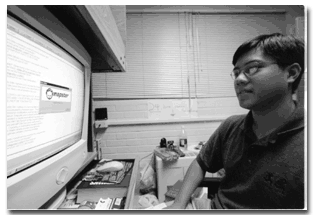 Aaron Farnsworth
Arizona Daily Wildcat
Molecular and cellular biology and computer science sophomore Eric Chen accesses Napster Sunday evening from his dorm room. Using this website in the future may become a violation of Residence Life policies.
Arizona Summer Wildcat
Use of MP3 trading software not banned by UA
The widely used Internet music trading software Napster has not been banned from the UA Residence Computing network, though several provisions to deter students from using large amounts of bandwidth have been added.
Steve Gilmore, assistant director of University of Arizona Residence Life, said Napster has not been singled out by the ResComp network, but that there are several provisions in the acceptable use policy that would prohibit the use of Napster and similar programs.
The primary reason programs like Napster are disapproved of by Residence Life is because of the high bandwidth use of the programs.
"Most students do not understand what Napster does to their computers," said Gilmore.
Students are prohibited from using their computers as servers on the network and Napster - through others in the Napster community downloading music files from students' computers - turns those computers into servers.
The acceptable use policy has been in place since the network was first made accessible to the students.
Recently, Residence Life upgraded the policy to give examples of common programs that should not be used.
The policy states, "Network use or applications, which inhibit or interfere with the use of the network by others, is not permitted.
"For example, applications which use an unusually large portion of the bandwidth for extended periods of time (e.g., peer-to-peer network file sharing applications such as Napster, Gnutella, IMESH, etc. and network game servers such as Quake (I, II or III), Unreal Tournament, etc. are not permitted."
Prior to last year, most of the network traffic was incoming, meaning the network was primarily used for downloading, Gilmore said.
During the past year, the network has had more outgoing traffic than incoming traffic Gilmore said.
"During the past year, we have had a lot of problems with bandwidth, 25 (percent) to 30 percent of bandwidth may have been going to Napster," said Gilmore.
The UA does not track what programs or material students are looking at when using the network, it only monitors bandwidth use.
"I don't know how much the UA is going to monitor Napster," said Colin Simning, a media arts junior who used Napster to download about 1,500 songs while living on campus last year.
"The University needs to add more bandwidth to prepare for the future. Files are going to get bigger," Simning said. "People are going to download the files because they are there."
Matthew Knatz, a computer science sophomore, said the university needs to encourage responsible usage of bandwidth. He added the UA should encourage students to turn their computers off when they are away from them so music can't be downloaded off of them.
"It does not matter what the university does, students are going to find a way around it," he said.