Honeycomb structure could revolutionize optical astronomy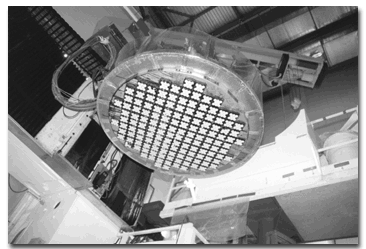 Matt Heistand
Arizona Daily Wildcat
A grinding device that removes imperfections from telescope mirrors hangs about 10 feet off the ground Monday afternoon at Steward Observatory's Mirror Casting Lab. The lab is currently making a lens that could revolutionize astronomical optics
Arizona Summer Wildcat
$84 million telescope to be finished in 2004
A team of UA scientists is making a pair of lightweight mirrors that will begin a new generation of optical telescopes.
The University of Arizona Steward Observatory is continuing work on a new telescope that will one day be assembled on Mount Graham.
The glass surface of the observatory is being molded into a honeycombed structure allowing for the weight of the glass portion of the telescope to be reduced by almost five times when compared to the traditional solid glass form.
For night observations, it is critical that the glass cool to the temperature of the air so that convection above the lens will not blur the images.
The new structure allows the air to circulate between the individual lenses, cooling them much more quickly.
The two big mirrors will be mounted side by side on a single telescope mount in the $84 million structure currently under construction.
This pioneering work began in 1980 with Roger Angel, the lab's founder and director. By 1985, support for this project came primarily from the Air Force and the National Science Foundation.
A large rotating furnace was built, and a series of mirrors were cast. In 1990, the furnace was extended to its current size and was first used in 1992.
The observatory is now casting the glass for what will be the second of two mirrors for the large binocular telescope with each mirror being 27.6 feet in diameter.
The initial melting of the glass began on May 13.
The temperature increase is a gradual process said John Hill, the Large Binocular Project director.
"The oven is now undergoing controlled cooling at a rate of 1/8 degree per hour," Hill said. "This slow rate is chosen so that the vertical temperature gradient through the glass and the mold is a fraction of a degree."
"We will continue to cool at this slow rate until we reach 450 degrees Celsius," he added.
Inside the Mirror Lab furnace, 41,140 pounds of glass were melted at temperatures reaching 1,382 degrees Fahrenheit and began the spinning process on May 19, said Steve Miller, Mirror Lab manager.
Once in operation in 2004, the Large Binocular Telescope will be the world's most powerful for optical and infrared astronomy, Miller said.
Jeff Jensen can be reached at city@wildcat.arizona.edu.