Diggins goes 17th overall to Dodgers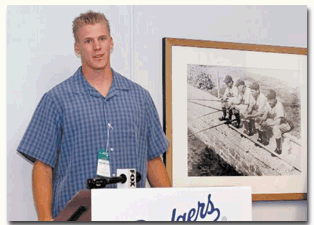 Associated Press
Arizona Daily Wildcat
Ben Diggins, a right-handed pitcher from the University of Arizona, stands next to a vintage Dodger photograph while responding to a reporter's question during a new conference Thursday, at Dodger Stadium in Los Angeles. Diggins, from Glendale, Ariz., was the Dodgers' first pick in major league baseball's amateur draft Monday.
Arizona Summer Wildcat
Sophomore pitcher, 3 other Wildcats selected in amateur draft
The dreams of a handful of UA baseball players came true last Friday as four Wildcats were taken in the 2000 Major League Baseball Amateur Draft.
Sophomore Ben Diggins, juniors Dave Abbott and Keoni DeRenne and senior Mike Meyer were each selected by a major league team, potentially ending each player's UA career.
Diggins, taken 17th overall by the Los Angeles Dodgers, became the first UA player selected in the first round since catcher Alan Zinter was drafted by the Chicago Cubs in 1989.
"Ben has a power arm," said Jerry Weinstein, the Los Angeles Dodgers' Director of Player Personnel. "We've had scouts see him pitch at least 14 or 15 times."
The surprise of the draft was the eighth-round selection of Abbott by the Toronto Blue Jays. Abbott, who missed the 2000 season following elbow surgery, had expected to be taken in the latter stages of the three-day long draft.
"I was ecstatic when I got a phone call at home so early in the day," he said. "I'm just glad that the Blue Jays are giving me a chance."
Junior shortstop Keoni DeRenne was taken by the Atlanta Braves in the 12th round. One of the slickest fielders in UA history, DeRenne signed with the 1999 National League Champions earlier this week.
According to UA pitching coach Bill Kinneberg, DeRenne's departure was expected.
"We figured Keoni was going," he said. "It's always been his dream - now he gets to live it."
Senior pitcher Mike Meyer was the last Wildcat selected in the draft. Meyer, who was used as a catcher and relief pitcher throughout the season, was selected by the St. Louis Cardinals in the 23rd round.
Two undrafted UA seniors were signed as free agents following the draft. Senior center fielder Troy Gingrich signed with the Montreal Expos, while senior left-hander Rob Shabansky became a member of the Arizona Diamondbacks' organization.
Gingrich will report to the Penn State League this summer alongside Abbott, while Shabansky will remain in Tucson and take part in the Diamondbacks' extended spring training.
"I think Troy and I will be playing in the same league," Abbott said. "I'll be playing in Queen City, New York."
Diggins, who is projected to be either a front-line starter or a closer for the Dodgers, may face the most pressure of all drafted Wildcats.
Members of the Dodgers' organization are optimistic that the Prescott Valley native will adapt well to the professional ranks.
"We're hoping that Ben can be a quality starter or even a closer in the big leagues," Matt Sadler, the Dodgers' Assistant Director of Scouting said. "He has a resilient arm and is a big, strong kid."
Although Diggins, who turned 21 yesterday, has a year less experience than most of his drafted counterparts, Weinstein is optimistic that the right-hander can catch up.
"How fast he moves is dependent on his pace and how quickly he develops," he said. "If we didn't think he would be successful, we wouldn't have drafted him."
While Diggins is still unsigned, Sadler believes that the two parties will reach an agreement within the next week.
"Ben and I met three days ago, and we're happy to have him," he said. "Ben's excited about being a Dodger. The one thing that we've noticed just talking to him is that he's a good person, a real quality human being. That goes a long way."
Five Arizona recruits were also selected in the annual draft. Nate Staggs, Mark Kaiser, Jake Whitesides, Jason Martinez and Joe Little had all committed to UA prior to being selected.
Currently, Kinneberg is most concerned with the future of Kaiser and Whitesides, both pitchers.
"We'd like to keep them, obviously," he said. "They're both still in the early negotiating stages with their respective teams."
Abbott believes the number of current and prospective Wildcats taken in this year's draft is indicative of Arizona's ability to acquire talented players out of high school.
"Arizona's a great program," he said. "The draft proved that we are one of the nation's top programs. It shows what kind of recruiting we do."