Neil Simon play offers 'a whole different style of acting'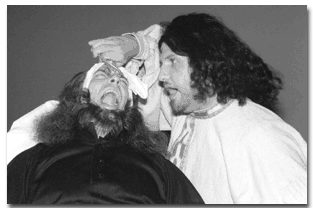 Arizona Daily Wildcat
Photo by: MIKE LARSON
L. Jay Meyer pinches Brian C. Russo during a rehearsal for "The Good Doctor" on Friday, June 2 at the Marroney Theatre. Production of "The Good Doctor" begins on June 13 with further performances in August and September.
Arizona Summer Wildcat
'The Good Doctor' opens tonight at UA's Marroney Theatre
In tonight's presentation of "The Good Doctor," it is only appropriate that the actors will be playing multiple roles detailing the life of Anton Chekhov, the famed Russian storyteller.
"It's not your average Neil Simon play," said actress Jennifer Fisk. "It can be funny at times, but it can also be very in depth."
Directed by Harold Dixon and performed by the Arizona Repertory Theatre Company, the play will detail the life of Chekhov, known primarily for his creative and insightful short stories.
The play is based around certain facts surrounding Chekhov, and much of it deals with the thought process he went through while writing.
"It's about his life. It's not all true - but it is," said Fisk, a recent University of Arizona Fine Arts graduate. "It spins into what he was actually thinking when he was writing."
"The Good Doctor" will be performed by seven actors, each playing multiple roles. The performance is actually a compilation of 10 short stories written about the author.
Fisk said her experience with reading Chekhov's plays helped her understand the parts she will be playing.
"If you don't know Chekhov, you should do some reading to learn the styles," she said. "It's a whole different style of acting."
Fisk, who will be playing five roles in the performance, said the constant changing of characters added to the preparation needed for the play.
"We've been rehearsing for about five weeks," she said. "We rehearse all day."
The Arizona Repertory Theatre has modeled itself after the equity theaters nationwide. Equity is the union of actors and stage help that has worked to protect the rights of all performers.
Fisk said the Company attempts to use the ideals of equity in all aspects of its teaching - from acting, to lighting, to costume design.
"This is not like a university drama class. They've gone to a higher, more professional level," she said. "It's still connected to the university, but it's separate."
Where it's at:

"The Good Doctor" opens tonight at 7:30 in the Marroney Theatre and will play through Sunday, June 25. Show times are 7:30 p.m. Wednesdays through Saturdays and 1:30 p.m. on Sundays. Tickets cost $18, with special rates for students, senior citizens and UA employees. For more information, call the UA Fine Arts Box Office at 621-1162.