The future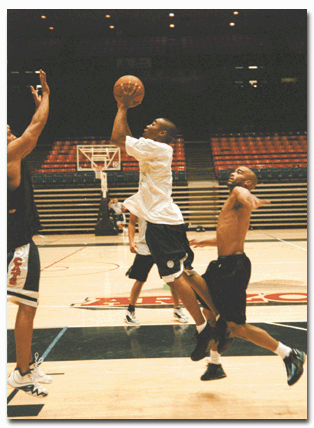 Aaron Farnsworth
Arizona Daily Wildcat
High school recruit Carlos Hurt pulls up for a jumper in a pick-up game at McKale Center last Sunday. Hurt is one of the nation's prized recruits and has narrowed his choices of schools between Arizona and Louisville.
Arizona Summer Wildcat
Carlos Hurt to decide between UA and Louisville
Former UA point guard Jason Terry knows a thing or two about being a good point guard.
So when the former first-team All-American and current Atlanta Hawks point guard was impressed with the play of prized recruit Carlos Hurt after a pick-up game at the McKale Center, Arizona knew it could possibly have another star in the making.
"Oh, good player, you know, he's got some quickness and dribbles the ball real well, has outstanding range on his jump shot, too," Terry said.
Hurt, a 6-foot-3 point guard from Houston, made his first unofficial visit to Tucson this past weekend - a visit the basketball program hopes will convince the sleek left-hander to commit to UA.
A major factor in Hurt's decision could be Arizona undergraduate assistant coach Josh Pastner, Hurt's under-17 AAU coach.
"Here, I have Josh, and he's gonna look after me, make sure I do the right things," Hurt said. "I love it (here), I mean, the weather's great and all the people I have met.
"I met Gilbert (Arenas) and Richard (Jefferson), and they are just real down to earth people. I met Lute (Olson) and his wife and kids, and everybody's just so nice."
Hurt, who is currently playing for Pastner's Houston Hoops, is considered by many publications to be No. 2 point guard in the class of 2001, behind Dejaun Wagner of Camden, N.J.
Known for his explosive scoring and ability to distribute the ball to his teammates, Hurt displays a win-at-all-cost mentality while on the court.
"When he gets on that floor, he is a complete winner, he does whatever it takes to win and has that fiery attitude about him, and that is just stuff you can't teach," Pastner said from his Houston home. "With Coach Olson's coaching and his ability with the development of players, Carlos' situation would help him move on to the NBA and have a chance to win a national championship here."
Being part of a winning team while chasing his dream of playing in the NBA is very important to Hurt, who said he would like to stay in school three or four years to polish his game before heading to the NBA.
"I want to be in a winning atmosphere," Hurt said, "I don't want to go to no losing atmosphere because I am a winner, I am not a loser at all."
Hurt is also impressed with the school's legacy of talented point guards.
"Every point guard here that had a chance to go to the NBA went," he said. "That is a very big influence on me."
Hurt has narrowed his choices down to Arizona and Louisville and will make an announcement July 5 at Nike Camp.
If Hurt commits to UA, he will join center Channing Frye of St. Mary's High School in Phoenix in the recruiting class of 2001. Frye is considered the No. 2 center in the West region by Rivals100.com.
Chris Martin can be reached at sports@wildcat.arizona.edu.