SR-71 - Now You See Inside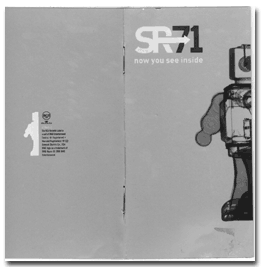 Arizona Daily Wildcat
Three stars
For a debut album, Now You See Inside soars as high as the band's namesake - the fastest, highest-flying jet plane in history.
Baltimore band SR-71, who's single "Right Now" is currently being played on alternative music stations nationwide, melds lovelorn lyrics with simple guitar riffs and catchy drum beats and bass lines.
The result is a surprisingly enjoyable list of songs, each providing its own individuality and presence.
Most songs off Now You See Inside are aggressive bouts of guitar-driven notes and chords that work very well with the lyrics. Along with "Right Now," songs like "Last Man on the Moon" and "Correct" have a hostile punk-rock feel - from the lyrics down to the bass lines.
On the slower songs like "Empty Spaces" and "Go Away," Mitch Allan's vocals display more than just skillfully written songs, but also simple poetry that can be easily followed, understood, and taken to heart by any audience.
On "Alive" Allan cries "All she's asking is for a little more time/ To walk away from his anger and leave the bruises far behind... Feels the power of the engine as she climbs to 65/ Every piston sounding like freedom, every white line says good-bye."
SR-71 also incorporates eighties style keyboard and synthesized sounds that push their music further away from mainstream alternative music. Not only that, but the band blends a variety of string instruments into their ballads, including cello and violin sounds.
The one distraction from the album is Allan's nasal voice. At times he sounds like a young boy as he belts out his simple yet catchy lyrics. Still, in the same vein as current pop-stars Blink 182 and Fentix TX, it provides the immature sound that will most certainly draw younger, less affluent audience.
Regardless, as popular alternative music turns to a happier, Southern California punk scene, SR-71 gives music fans a relatively more talented and mature sound than what is currently saturating the airwaves.