McCorkle leaves UA for Georgia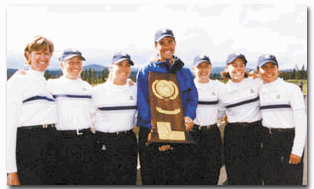 Arizona Daily Wildcat
Arizona Summer Wildcat
UA begins search for replacement immediately
Todd McCorkle's stint as Arizona's women's golf head coach ended almost as quickly as it began.
Fresh off a national championship - the second in the program's history - the second-year coach surprised UA's athletic community last Tuesday when, citing an opportunity to return closer to his hometown of Charlotte, N.C., he accepted a similar position at the University of Georgia.
"I feel like this is an incredible opportunity to join one of the nation's premier programs, which features possibly the best practice facilities of any school in the nation," McCorkle stated in a press release. "It is also a chance for me to get back to the SEC, where I feel very comfortable."
One of the main selling points for McCorkle, the GolfWeek 2000 National Coach of the Year, was Georgia's training facilities, most notably the $1.2 million Boyd Center in Athens, Ga.
The Bulldogs also christened a new clubhouse in the spring of 1999, complete with coaches offices, a players lounge and computer stations.
"He's doing what is best for him, and I am happy for him," UA freshman golfer Julia Kraschinski said. "It was just kind of something that happened and we'll just move on. Todd was a great coach and did a lot for us."
In departing for Georgia, McCorkle has an opportunity to return to the region where he first became immersed in the game of golf.
McCorkle played collegiate golf at the University of North Carolina at Charlotte and went on to be the head coach women's golf at Coastal Carolina from 1996 to 1997 before coming to Arizona.
"It's a tremendous opportunity for Todd to go home," UA athletic director Jim Livengood said. "Most of his experiences have taken place in the South and the Bulldogs have a great program down there."
McCorkle will inherit a young Georgia team that finished seventh overall at the NCAA Women's Golf National Championships in May.
"It was very difficult (to leave Arizona) with the relationships with the team and incoming recruits," McCorkle stated. "But it was an incredible opportunity to be successful here at Georgia, and that's why I left. The sadness is from the relationships with (the UA community) and the almost guarantee of success."
With the departure of McCorkle, Livengood and assistant athletic director Rocky LaRose will waste no time in selecting a replacement for McCorkle. While the department will not discuss any possible replacements, the newly vacated job is a coveted one.
"My responsibility is to do the best I can for Arizona," Livengood said. "There are a number of people who would love to come in and be a coach for the Wildcats."
Chris Martin contributed to this story.