Arizona track team sends 5 to Olympic Trials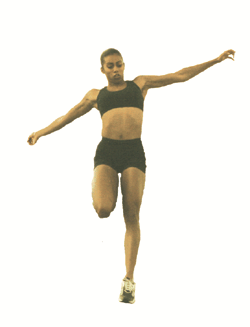 Matt Capowski
Arizona Daily Wildcat
Arizona junior Brianna Glenn practices the long jump Monday night at Roy P. Drachman Stadium. Glenn and four other members from the UA women's track team have qualified to compete in the the U.S. Oylimpics trials this weekend in Sacramento, Calif.
Arizona Summer Wildcat
Glenn only Wildcat entered in 2 events
Every four years, a track and field athlete is given the opportunity to compete in the event's highest level of international competition.
An athlete's ticket to Sydney, Australia, home of the 2000 Summer Olympics, is, however, contingent on his or her performance in the national time trials.
That process begins Friday in Sacramento, Calif. when USA Track and Field hosts the season's premiere meet.
Arizona will be well represented as five women from last year's Wildcat team will compete in the trials.
Former Wildcats Carolyn Jackson and Nicole Thomas, senior Andrea Neary as well as juniors Brianna Glenn and Tara Chaplin will each be competing.
Because it is the first time any of these athletes will be entering in an Olympic trial, UA head coach Dave Murray said he believes the athletes have already exceeded anyone's expectations.
"To qualify for this meet is great in its own right," Murray said. "They shouldn't be nervous, there's really no pressure on them."
Murray believes the trials are the second best meet in the world, behind the Olympics themselves.
Arizona sprint coach Fred Harvey, however, one-upped the head coach by calling the trials the best meet due to such high levels of competition.
As far as what he envisions from his athletes at the meet, Harvey has high standards.
"The expectations are high," he said. "Mentally, they are all prepared to do what they need to do. No one's expecting them to do anything, so there's really no pressure."
While all four have big meet experience, after competing in the recent NCAA National Champions, the Olympic Trials are in a class all their own.
Glenn will be the only Wildcat to enter in two events. The Los Angeles native will compete in both the 100-meter dash and long jump.
"I'm excited and a little bit nervous," Glenn said. "But a good nervous."
Glenn and Jackson are both coming off stellar performances in last weekend's High Altitude Competition Series meet in Flagstaff.
Glenn finished the meet in style, setting a new school record in the long jump at 21-10. Jackson also fared well, winning the 400.
With no big expectations, Thomas appears more nervous about meeting childhood idols than competing in such an important meet.
"I'm going to be running in the same meet against people I've been looking up to all my life," Thomas said. "It's exciting, but a little bit overwhelming."
Chaplin joins the other runners as they travel today to Sacramento, while Neary will wait another week before heading to California.
Women's pole vault makes its debut at the trials this year. Neary, a vaulter, couldn't be more excited.
"Two years ago when I started I would have never said that I'd be going to the Olympic trials," Neary said. "I'm excited just to be competing."
Neary will be in prime form heading into the trials, setting a personal record last week with a vault of 13-3.
No matter how each athlete fares, the experience will definitely be something to build off of for next season.
"This is just for the experience," Glenn said. "Whatever happens, happens."