Hacking up the music scene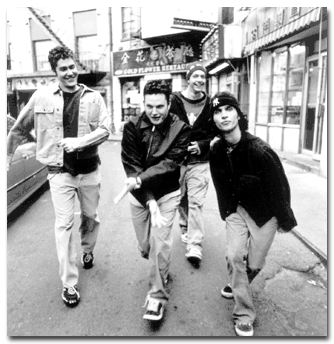 Arizona Daily Wildcat
photo courtesy of Universal Records Austin, Texas band Dynamite Hack returns to Tucson on July 29 when they open for Goldfinger at the Rialto Theatre. The band's song "Boyz-N-The Hood" ranks 15 on the Billboard Modern Rock Track List.
Arizona Summer Wildcat
'Boyz-N-The Hood' musicians Dynamite Hack give up
In 1993, still years away from graduating from the University of Texas, Mark Morris knew that he could find success without that lofty college degree.
Now, seven years later, he and his fellow Dynamite Hack bandmates are beginning to realize the difference between a successful college graduate and a successful rock star.
"I kind of went there for three or four or five years off and on," guitarist and singer Morris said. "I wasn't the most dedicated student in the world."
With his band's new-found popularity - stemming from their mega-hit "Boyz-N-The Hood," - and a hauntingly similar sound reminiscent of pop-icon band Weezer, Morris, Chad Robinson (bass/vocals), Mike Vlahakis (guitar) and newly added Kyle Schnieder (drums) certainly do not regret their decision to leave university life.
Dynamite Hack evolved from four roommates who had the means and desire to write music. While attending the University of Texas in Austin, Morris and Robinson shared not only extended acquaintances, but also are shared love for song-writing.
"I knew of Chad for quite a long time - probably since I got to the University of Texas, in 1991," he said. "I had heard of him from friends of friends. I didn't actually meet him until 1993."
After meeting Vlahakis, who was Robinson's roommate at the time, the three moved into a large house near campus and began writing and playing music together.
"I think we all come at this from a songwriting standpoint," Morris said. "For all of us, I think, our favorite thing to do is to write songs."
As with most bands, Dynamite Hack began playing wherever and whenever they could. Morris recounted a typical show early on in the band's career.
"We were a band that played like once a week. A band would cancel at this real divey punk bar - and we are not really a punk band," he said.
"The booking guy at the club really liked some of our songs and so he would call us at like 8 o'clock and say 'Hey man, can you guys get down here in an hour and a half and play - a band just canceled?' We'd go 'shit yeah' and go open up for these hard-core punk acts and they'd just boo us off the stage."
Since then, the band has evolved into an up-and-coming musical act. With heightened exposure and elevated level of radio play, Dynamite Hack has seen a drastic change from their origins nearly a decade ago.
"The biggest change really is just being able to play every day. People knowing us is cool, you know," Morris said. "You go to a town and people cheer when you play 'Boyz-N-The Hood' and they kinda give your other stuff a chance, which is, I guess, all you can ask for.
However, Morris said the exposure and current success pales in comparison when hearing people liken Dynamite Hack to his favorite band, Weezer.
"I could not be prouder to be compared to Weezer," he said. "Actually, Weezer is the reason why I wanted to become a band. I never really looked up to a band and wanted to be them until I heard Weezer and everything became clear."
"I understand the Weezer comparisons, and I am flattered by that. I think the only thing that separates us from Weezer is that they've been doing it for some many years, and they are a hell of a lot better at it."
Unfortunately, Morris said, there are some comparisons to bands that trouble him.
"We get compared to Blink 182 a lot and everything, and I really don't think we're like Blink 182 at all," he said. "Yet every reviewer says that we are just this bland, Blink 182 rip-off. I really don't get it - I think they just half-heatedly listen to the record. I'm not sure what to compare us to."
Morris added that today's popular music lacks a very simple, yet extremely important element that is incorporated in Dynamite Hack's sound.
"I do think there is an upsetting lack of guitar solos in today's music. And when they do, they're largely just a bunch of noise, screaming noise," he said. "To me, that is something that needs to be in a song. Verse, chorus, verse, chorus, bridge, guitar solo, chorus - it's an old formula."
As "Boyz-N-The Hood" increases its pace to the top of the alternative music charts, Morris said it fits perfectly in the band's play list - despite the fact that it is a cover of the Easy-E gangsta rap tune.
"If you listen to the album, and you had never heard 'Boyz-N-The Hood,' I think it would fit. You would get to 'Boyz-N-The Hood,' and it just rolls right along. It really fits in its place on the album."
"To me, 'Boyz-N-The Hood' is just a little quieter than the rest of the tracks. I hope its based around melody and trying to get a hook. To me the other stuff is just like heavy rock, kind of rock-pop, and 'Boyz-N-The Hood' is kind of acoustic rock. They're still in the same kind of theme," he said.
Dynamite Hack last played in Tucson on May 29, opening for bands Cyprus Hill, Everclear and Goldfinger.
The band has teamed up with Goldfinger again and will be playing July 29 at the Rialto Theatre - which excites Morris and his bandmates.
"Goldfinger is just awesome. I get to see Goldfinger play every night," he said. "That is the best part - let me change my answer from before. I get to see Goldfinger and other bands of their ilk every single night."