No place to go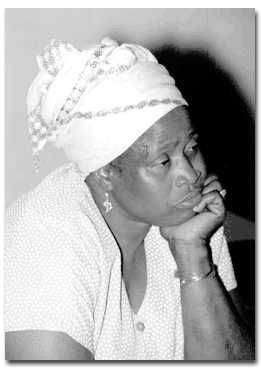 Arizona Daily Wildcat
Photo by: MIKE LARSON
Madaline Cohen listens as the future of the remaining Christopher City residents is discussed last Thursday.
Arizona Summer Wildcat
Years of poor upkeep have led residents to wonder how
Whole blocks of apartments are vacant, a few remaining yard sales are being held and the last moving trucks are leaving.
A group of about 30 residents of Christopher City gathered in the lounge, just south of main entrance looking on the pool to the east, to discuss their futures Thursday evening.
Their current home at 3401 N. Columbus Blvd. will be closed at the end of August and will be torn down - possibly soon after.
Toxic mold has been found in a block of 20 apartments, and the University of Arizona has determined that the complex is a health risk.
Many of the remaining Christopher City residents remain angry because they said the mold problem is due to a lack of maintenance to the facility, and while the mold is dangerous to the health of anyone living in that apartment block, the rest of the complex is livable.
"These things could have been fixed, and they still can be fixed," said Bashir Hobbs, a Christopher City resident and UA research associate.
Several of them don't know where they are going to live in a month. Some aren't American citizens and therefore have no credit, making it difficult to get a landlord to rent to them.
"There are a lot of foreign students, and they don't always get the desired reaction from landlords," said UA President Peter Likins.
A large number of the families have moved out of Christopher City and Likins said the relocation in Christopher City is now being handled on a family-by-family basis.
"The university is going to work really hard with landlords," said Sharon Kha, UA spokeswoman.
The university will spend more than $1 million over the next year relocating Christopher City's residents, giving up to $1,550 per family living in a three-bedroom apartment. A monthly rent subsidy of up to $224 will also be given to residents.
Peggy Morales, a housing program manager for the city of Tucson, spoke to the residents at the meeting about their options with the city. But before anyone from Christopher City can move into city housing, they must go through an eight-week background check with the Tucson Police Department.
Morales said she estimates that no one would be able to receive assistance in housing until October, and even then, it may only be temporary.
"This doesn't solve anything for me," Hobbs said.
Other residents said they couldn't afford to make the move even with the money the university is giving them. The residents aren't asking for more money, but they have requested more time to allow more options to develop.
Carol West, Ward 2 city councilwoman, sent a letter to Likins on June 19 asking for an extension of the August 31 deadline for residents to move out of Christopher City - which is in her ward.
"I can understand their feelings because while I was there, I sensed a 'connectedness' and camaraderie that will be difficult to replicate," West stated in her letter. "However, I certainly understand the university's health and safety concerns about Christopher City."
University officials estimated in April that the cost of clean up and completion of all other needed work would be in the vicinity of $2.5 million.
"They're looking at (the complex) as a liability," said Lynda Canfield, a Christopher City resident and electrical engineering junior.
When the university officials found out that the complex contained toxic mold contamination, they acted quickly, said Kha.
"We believe that it's an unsafe situation," she added.
Therefore it is highly unlikely that any extension will be granted by the UA.
"It wouldn't be fair, in my opinion, to give them an extension when others have moved out," said Steve Holland, director of Risk Management. "We don't think it's a good idea."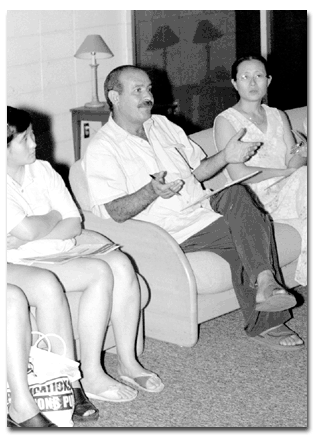 MIKE LARSON
Arizona Daily Wildcat
Bashir Hobbs explains why he is concerned about where his family may end up come the end of August when Christopher City is set to close.
On the first day of finals, the residents were informed that they had to be out in less than four months.
"Closure was never, ever brought up until May 5 when we received eviction notices from Likins on our doors," said Martha McGrath, resident and community assistant at Christopher City.
Students were still being solicited to live in Christopher City as late as March, just over a month prior to the announcement that the apartments would be closed.
"They were saying stories in the media (about the mold) that were inaccurate," Canfield said.
She moved into Christopher City on March 15, and the residents that brought her in received $100 from the UA.
"(The UA said) 'there are problems with Christopher City, but there will be alternate housing (before anything is done with Christopher City),'" Canfield said.
After the discovery of the mold contamination, UA officials said they may have to close off parts of the complex for inspection and maintenance to remove the mold. That would result in them having to delay the renewal of leases because they weren't certain what would have to be closed down.
"The university was operating on the assumption that they weren't going to close down Chris City," Kha said.
A rent hike - 1.6 percent - was even announced in April for the residents who would be staying.
Though Kha said the university was forced to move quickly because it was a health risk for the tenants, Canfield said she thinks the decision was made long before.
"Major decisions like that don't move that fast," she said. "I don't think anyone would disagree that the university is discriminating against families."
At the last Arizona Board of Regents meeting, the regents allowed the UA to go forward with plans to replace Christopher City with another graduate family village.
"Our first priority is to rebuild (graduate family housing)," Kha said.
However, the current tenants said they think the UA's first priority is rebuilding its Student Union and finishing its freshman center and dorms.
"I think the university needs to know what it feels like for us to go on campus and see building after building (under construction)," said Jennae Davis, an English sophomore and Christopher City Resident. "It's very unfair to us.
"We feel like we're being spit on."
Millions of dollars are being spent on new dorms for freshman and in the purchase of apartment complexes to be able to accommodate the growing number of freshman who attend the UA every year - including $25 million to be spent on a new complex to house graduate students without families.
"For the university, the freshman are the priority and half of them drop out," McGrath said.
Now the main concern of the students and researchers living in Christopher City is not whether there will be a new graduate family housing complex built, but whether there will be a place for them to live in a month.
"We have nothing, we have no place to go," Canfield said. "Nobody wants to rent to us."
Though residents do still remain - and may up until the deadline - Kha said the UA has made, "really great progress moving most of the people out."
Those who do remain may have to find some form of temporary housing, possibly with the city, since their pay as graduate assistants and researchers is less than $15,000 annually and some earn less than $10,000.
"I'm not homeless, and I'm not going to move for 30 days," Canfield said. "This has been difficult enough for me."
The thought of being out on the street has sparked much of the concern and created the need for meetings with people in the community who may be able to provide them assistance.
"There's a lot of understandable fear," Likins said. "Some of these people have had a hard time relocating. You have to be human in these matters."
But Canfield and other Christopher City residents said they don't think the UA looks at the human side of the issue.
"I don't trust this university. They could put us in temporary housing and drop us," Canfield said.
If the Christopher City tenants have not moved out by the Aug. 31 deadline, remaining in the complex may, "push the university in the position of doing something," Canfield said.
Though it's a tough situation from any angle, Regent Judy Gignac said the residents should not be overly concerned.
"A university bases a good part of its national prestige on its graduate students," Gignac said. "It would be crazy to treat them badly. Nobody is going to be out on the street."