Disciple: the new tradition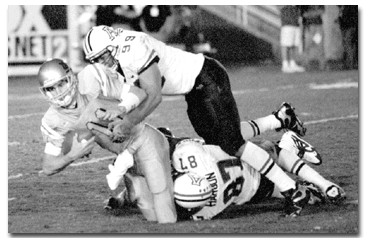 Wildcat File Photo
Arizona Daily Wildcat
ASenior defensive tackle Joe Tafoya sacks UCLA quarterback Drew Bennett in last fall's victory over the Bruins at the Rose Bowl in Pasadena, Calif. Tafoya will lead a young Wildcat defense into the 2000 season.
Arizona Summer Wildcat
New-look Wildcats seek to overcome last season's miscues
Look long and hard at the 2000 Arizona football team.
Whether it's the new-look uniforms or a renewed dedication to team discipline following one of the most disappointing seasons in school history, it's obvious that the Wildcats are hardly the team that went 6-6 last season.
Gone are both the antiquated uniforms of old and an unfortunate recent tradition of personal downfalls.
When starting tight end Brandon Manumaleuna and linebacker Antonio Pierce were accused of off-field transgressions last spring, UA head coach Dick Tomey reacted in a way that surprised some, suspending the two for all of spring practice and the first game of the regular season.
"We tried to be more in line with zero tolerance in every way, whether it was punctuality, reliability or performance in the classroom," he said after spring practice.
While Tomey may have been more forgiving in past years, it's apparent that the Pac-10's most senior head coach means business in 2000.
"We can look back and see that lack of discipline cost us, and none of us want it to happen again," he said.
While the attitudes may be different, the team's goals remain the same as in past seasons.
"Our goal is to win the Pac-10," senior running back Leon Callen said. "My goal is to win the national championship."
The Wildcats return 46 letterman, half on offense and the other half on defense.
One such returnee is fifth-year senior quarterback Ortege Jenkins. Last season, Jenkins split time with the now-departed Keith Smith. With a large gap between Jenkins and his backups, it is apparent that the senior now has the team all to himself.
"I think he took a great leadership role in the offseason, getting guys out for throwing and practice sessions," Tomey said. "I think he is going to take that role again over the summer."
It is uncertain as to who will join Jenkins in the offensive backfield. Three running backs will vie to replace departed back Trung Canidate, who was taken by the St. Louis Rams in the first round of April's NFL Draft.
Sophomores Leo Mills and Larry Croom as well as Callen will each compete to start. All three backs will see significant playing time early in the season, according to first-year running backs coach Randy Robbins.
"Everything is wide open," he said. "All three guys will play in the first game. Whoever emerges will emerge."
On the offensive line, only one position seems to be up for grabs - right guard.
This season's starting right guard will either be 6-foot-5 sophomore Aaron Higgenbotham or 6-4 junior Kevin Barry. At 325 pounds, Barry has nearly 40 pounds on his counterpart.
Senior center Bruce Wiggins is the unquestioned leader of the line and has not gone unnoticed by Tomey.
"Bruce Wiggins is going to be a leader on the offense, too," he said.
The defense's new superstar appears to be 6-foot-2 sophomore linebacker Lance Briggs.
Averaging 6.8 yards per carry last season as a fullback, Briggs has shown that he is a capable athlete. His talents were not lost on UA head coach Dick Tomey following last spring's practices.
"He's going to be a marvelous player at linebacker," Tomey said.
The defensive line will be led by senior Joe Tafoya. Despite being unable to compete in spring practice due to injury, Tafoya's work ethic goes unquestioned.
"He was a shining example of what it takes to be winner," Tomey said. "Joe just wants so bad to be part of a winning team - Joe Tafoya is as respected a football player as I think we have had here because he is such a tough guy and hard worker."
On special teams, the Wildcats will replace woeful place kicker Mark McDonald with either sophomore Sean Keel or freshman Doug Jones. Jones, a Florida native, turned down an offer to walk on at Florida State to become a Wildcat. Keel, the only placekicker with game experience, went 5 of 8 last season as a short-term replacement for the beleaguered McDonald.
Keel emerged as the favorite to start when junior college All-American Tommy Kirovsky returned home to battle an illness during spring drills. Kirovsky, who attended Palomar Junior College near San Diego, will not return to the program.
On kick and punt returns, Arizona will struggle to replace Dennis Northcutt, who was drafted by the Cleveland Browns with the first pick in the second round.
Sophomore wide receiver Bobby Wade is the likely replacement.
Despite some low expectations for the 2000 season, the Wildcats may surprise some people.
Even UA athletic director Jim Livengood is optimistic about the team's fortunes.
"Let's cut to the chase - I'm hoping we can win some games," he said. "Once the ball is kicked off, we will know. The greatest thing about sports is that nobody can ever send in scores. Every game has to be played."