Former Tucson police assistant chief to head up UAPD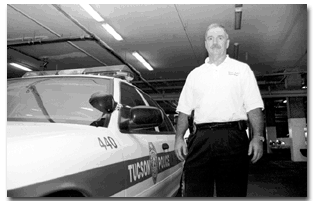 Arizona Daily Wildcat
Arizona Summer Wildcat
28 years of experience at TPD could make transition easy
More than 200 candidates from agencies across the nation - including the U.S. Secret Service - applied for the job of UAPD chief of police, and after months of searching, university officials have made their selection.
The University of Arizona announced Monday that Anthony Daykin, Tucson Police Department assistant chief of police, accepted a job offer from the UA to take over the top position at UAPD.
Daykin, who has worked at TPD for 28 years, said he is looking forward to the challenges that lie ahead.
"I have a realistic idea of what to anticipate. I did a lot of thinking and soul searching before I applied," he said.
"I am very happy where I am (with TPD), and I wanted to make sure I would be happy where I went."
He started his career at TPD as a patrol officer in 1972 and worked his way through the ranks before becoming assistant chief.
There are major differences between the way city and university police departments are run, but Sharon Kha, UA spokeswoman, said she is confident Daykin will make a smooth transition.
"He was really clear about the difference in being in a university setting, where there is a lot more education and crime prevention, than there might be time for at TPD," she said.
Last week two candidates - Daykin and Kathy Guimond of the University of New Mexico Albuquerque Police Department - were under consideration for the job of UA chief of police.
Guimond had experience running a university police department, but Daykin had the first-hand knowledge of Tucson and the UA, Kha said.
The university community has a different dynamic since the population of the UA pays to live here, Daykin said.
"My goal is to have a very interactive relationship with all of the surrounding communities, not just the university community," he added.
A statement issued by Julius Parker, UA associate vice president for business affairs - who was part of the selection committee - stated that Daykin "brings to the position a reputation for outstanding professionalism and integrity coupled with superb leadership, organizational and team building skills."
Besides working in the Tucson community for more than two decades, Daykin has been involved in many aspects of the university.
"My wife is a double alumni from U of A, and we enjoy attending most of the basketball games," he said. "I feel fortunate and privileged. I look forward to becoming part of the university community."
Blake Smith can be reached at Blake.Smith@wildcat.arizona.edu.