For love of the game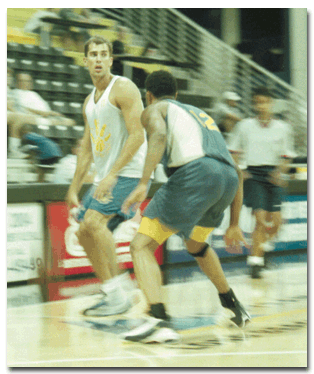 Arizona Daily Wildcat
Photo by: CHRIS MARTIN
Former Wildcat Dylan Rigdon dribbles the ball up the floor this past weekend in at the Los Angeles Summer Pro League in Long Beach, Calif. Rigdon is a point guard for the L.A. Pros, which is the league's top ranked team.
Arizona Summer Wildcat
Ex-Wildcat Rigdon forging a life in Summer Pro League
LONG BEACH, Calif.-Dylan Rigdon confounds people. Maybe it's because the 6-foot-4 point guard hardly looks the part of a basketball player, seemingly more at ease on the beach than on the basketball courts.
Maybe it's because Rigdon, who played sparingly on the 1994 UA team that made it to the Final Four in Charlotte, seems to defy his age, seemingly reaching his potential at 29, the same time most athletes enter the twilight of their careers.
In his two seasons at UA, Rigdon failed to crack the starting lineup once.
Or maybe - just maybe - it's because Rigdon continually baffles opponents in the Los Angeles Summer Pro League while maintaining a day job at a mortgage company in nearby Orange Country, Calif.
After playing five seasons overseas, the Laguna Beach, Calif., native seems content juggling two jobs, at least for the summer.
"(After playing abroad,) my job was lucky enough to hire me back, so that was great," Rigdon said following an L.A. Pros victory against the Magic Johnson All-Stars. "They seem to understand my love for the game."
Rigdon's professional history - "it's a long, boring story," according to the point guard - has taken the former Wildcat around the world since his graduation in 1994.
After leaving Tucson in 1994, Rigdon found himself playing professionally in Holland and New Zealand before returning to Orange County and a job at Genesis Financial.
"I came back and was working for a mortgage financing company," he said. "I did that for about eight (or) nine months."
However, Rigdon's passion for the game rendered him restless behind a desk and missing his life as a basketball player.
"I realized that my time to play basketball, travel, see new cultures, and meet new people was limited," he said. "So I got a job in the First Division (league) of Australia."
It was in Australia that Rigdon appeared to hit his stride as a player. The guard was asked to return for another season.
But it was a different kind of passion - the love for his wife - that kept Rigdon from staying in Australia for another season.
"After my first season there, they offered me a two-year contract," he said, "(but) I had scheduled a wedding - you know how that goes - and we had sent out invitations. I couldn't change that."
After playing in 1999 in Ludwigsburg, Germany, and winning his division, Rigdon is back in the United States and turning heads as a point guard for the L.A. Pros, the Summer League's top-ranked team.
"I'm impressed," Pooh Richardson, an NBA veteran and Rigdon's teammate, said. "He's fearless and that's what I like most of all. Dylan's seeing the court better and becoming more of a scorer."
"He's becoming more of a (true) point guard, more of what Coach wants him to be."
According to Rigdon's summer league coach, Maury Hanks, the guard's success has helped the team stay consistent despite the losses of Charlotte Hornets point guard Baron Davis to previous commitments and Richardson to injuries.
"Baron showed up for the first three or four games," Hanks said. "Dylan's played a lot since then. He comes in shape and competes."
Rigdon is a rare sight in the Los Angeles Summer Pro League - unselfish in a league that prides itself on showcasing players' offensive skills.
"We don't practice, so (teamwork) is tough on all of us," Hanks said. "Dylan has to overcome the urge to score and become more of a true point guard. He's done a good job for us."
One of numerous summer leagues, the Los Angeles Summer Pro League serves as a pipeline to the NBA and overseas professional teams.
Whether Rigdon is playing basketball or working behind a desk, he admits to following his alma mater with a trace of nostalgia.
An 87.2 percent free-throw shooter while at UA, Rigdon left Arizona as one of the program's most consistent role players.
"The program's been very influential," he said. "The older you get, the more and more you get into following the team. It's even more enjoyable to watch now."
While Rigdon was unable to follow the Wildcats closely in 1999 while playing in Germany, he remembers his past with fondness.
"Practicing every day, going to the Final Four, traveling abroad, or staying in Tucson - you'll never experience anything like that in your life," he said. "Not too many people have a chance to do that."
Even with a day job, Rigdon and his coach aren't ruling out a comeback for the UA alum.
"Realistically, he could get an offer to play overseas," Hanks said. "There are a lot of NBA and overseas scouts here."
All Rigdon can do now is continue to play well and wait.
"Living in Orange County, I don't get the opportunity to play as much," he said. "But if the opportunities present themselves at the end of the (summer) season..."
Although his sentence trails off, it's obvious that Rigdon has just fallen hard for the game of basketball. Again.
Ryan Finley and Chris Martin can be reached at sports@wildcat.arizona.edu.