London prof joins UA to fight lupus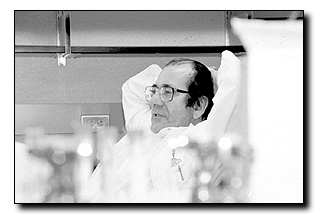 Matt Heistand
Arizona Daily Wildcat
Ben Greenstein, a research professor in pharmacology, fields questions Thursday afternoon at University Medical Center. Greenstein hopes to find a treatment for lupus using the hormone estrogen.
By Irene Hsiao
Arizona Daily Wildcat,
September 14, 1999
A London researcher is helping the UA search for a remedy for lupus, a disease common among women in their reproductive years that attacks the immune system and targets specific organs.
Ben Greenstein, a visiting research professor in pharmacology from London University in England, said he believes that estrogen - a female sex hormone - makes lupus worse. In experiments, he found that dampening the production of estrogen in mice who have a similar kidney-failure disease, makes the mice healthier.
When he conducted the mice experiments in London, he was able to convince doctors to try a drug that slows down the estrogen rate in lupus patients. After that, he came to the Arizona Arthritis Center at the University of Arizona to continue fighting the disease.
"It's a nasty disease ... it's all because your immune system thinks your tissues are the enemy, " he said. "My aim here is to see if I can get doctors interested in estrogen intervention therapies."
He said patients felt much better and intervening with estrogen may be better than the current treatment.
"It's promising," he said. "I think it might be a far more natural way to treat it instead of using powerful drugs."
Greenstein added that women who are receiving estrogen through hormone replacement therapy are not at risk of contracting lupus because the amount is too small.
The disease can damage the kidneys and cause strokes and arthritis. However, the attack does not have to be internal. The most notable marks of lupus are the lesions patients develop on their faces and bodies. In fact, during the middle ages, superstitious people believed that women who had lesions on their faces were bitten by wolves, thus lupus takes its name from the Latin word for wolf.
Greenstein said the disease was difficult to diagnose until recently, because each patient has different malfunctioning organs. Now, a diagnosis can be made through a blood test.
Women are especially sensitive to the disease during puberty and pregnancy as well as while using contraceptives. Men have a much slimmer chance of getting the disease.
Greenstein said he has always been interested in the role of estrogen in the body. He was told by another researcher while he was giving a talk in London about the role of the hormone that he was wasting time and should switch to estrogen research in lupus.
"My particular focus has changed and brought me to Tucson," he said.
He said he finds the Arizona Arthritis Center highly progressive for this type of research, but admitted that he couldn't even pronounce the word Tucson until he came to the UA to do more research on mice.
Ryan Roa, a biochemistry and molecular and cellular biology senior, is the only undergraduate participating in the research.
"I'm excited about it," he said.
Roa said he finds the project interesting and intends to do his senior thesis on the research. He added that he plans to go to medical school but considers doing research as an option.
" I don't know if that (research) is what I want to do yet," Roa said.