Pageant to allow divorcees, abortion recipients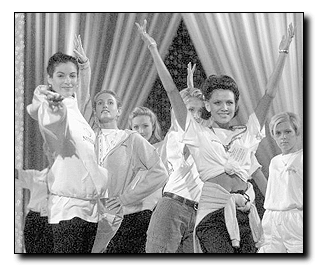 Associated Press
Arizona Daily Wildcat
Contestants rehearse on stage at the Atlantic City, N.J., convention hall for the Miss America Pageant yesterday. In a stunning departure from tradition, the Miss America Pageant will allow women who have been married or have had children to compete next year.
By The Associated Press
Arizona Daily Wildcat,
September 14, 1999
Associated Press
ATLANTIC CITY, N.J. - In a stunning departure from tradition, the Miss America Pageant has lifted its ban on women who are divorced or have had an abortion, the Associated Press has learned.
The board of the Miss America Organization voted last month to drop the 49-year-old rule. The change takes effect next year.
Fear of violating New Jersey's discrimination laws spurred the change, according to court documents obtained yesterday.
Since 1950, contestants have had to swear they had never been married and never been pregnant in order to vie for the rhinestone crown and thousands of dollars in scholarship money.
The new rules would require simply that they sign a document saying ''I am unmarried'' and ''I am not pregnant and I am not the natural or adoptive parent of any child.''
That would open the door to divorced women, women who have had abortions and women who had children who later died.
Pageant chief executive Robert L. Beck sent new contracts to state pageant directors in August notifying them of the change. Beck and other pageant officials declined requests for comment.
The state pageants went to court to fight the change, and the Miss America Organization agreed to back off for this year, while the board approved the change for next year.
The state pageants are expected to continue fighting it.
''Miss America has a long history of high moral standards and traditions, and I'm opposed to anything that changes that,'' said Libby Taylor, executive director of the Miss Kentucky Pageant and president of the National Association of Miss America State Pageants.
Leonard C. Horn, the CEO of the pageant who stepped down last year after 30 years with the organization, said the rule change was a mistake.
''It is totally unnecessary and will ultimately lead to the destruction of the Miss America program,'' he said.
Noting that ''There She Is,'' the song that has been used to serenade the tearful winner as she walks the runway at Convention Hall, calls Miss America ''your ideal,'' Horn said allowing women who have had abortions or divorces is inconsistent with that. He said it will lead to state pageants quitting the Miss America system.
Sponsors, too, will rethink their participation in the program, which makes available more than $30 million in scholarship aid annually to contestants and others, Horn said.
''It's acceptable in today's society, but no one could argue that an unwanted pregnancy or an abortion is an ideal. A failed marriage is not an ideal. It's acceptable and it happens, but it's not an ideal,'' Horn said.