Win leaves UA with little joy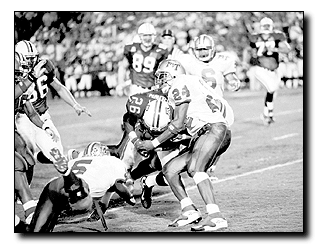 Matt Heistand
Arizona Daily Wildcat
Junior wide receiver Marvin Brown (26) is tackled by two Middle Tennessee State players during Saturday night's game. With receivers Brad Brennan and Malosi Leonard out with injuries, newcomers like Brown are under pressure to step up for the Wildcats.
One can mark Saturday's football game between Arizona and Middle Tennessee State as two games in one.
In the first game, No. 19 Arizona (2-1) won 34-0 behind a punishing rushing attack. This first game lasted 45 minutes, 5 seconds.
The second game, lasting 14:55, saw the Blue Raiders (0-2) clobber the Wildcats 19-0.
In truth, there was one game, which Arizona won 34-19, but the first three quarters of the game were played by the Wildcat starters, whereas the fourth was played by the inexperienced reserves.
And the reserves looked awful, surrendering 19 unanswered points to an MTSU team that had been manhandled up to that point.
"We had a lot of guys in late that really didn't have too much experience and I'm not going to blame anything on them, but we need to work on our depth," UA junior defensive end Joe Tafoya said. "There's lots to learn from this game."
OFFENSE
The running game lives.
Senior Trung Canidate (102 yards on 16 carries), junior Leon Callen (60 yards on 10 carries), redshirt freshman Leo Mills (50 yards on 8 carries) and freshman Larry Croom (23 yards on 4 carries) blew through the MTSU defense like a tornado through a trailer park.
Then there's the passing game.
"The receiver position is the position that is now most up in the air," UA head coach Dick Tomey said. "We are hopeful that they (Brad Brennan and Malosi Leonard) will be able to go next week."
But Brennan's hamstring doesn't seem to be getting any better and though the other receivers showed some signs of life against the Blue Raiders, this unit has a lot more to work on. In defense of the receivers, they weren't used all that often as UA focused on the running attack.
Tomey has said, though, that Stanford is playing much better against the run this year. That could leave players like junior Marvin Brown and freshman Bobby Wade as the keys against the Cardinal this weekend.
DEFENSE
The secondary is as banged up and thin as the receiving corps. That could be a major problem against Stanford quarterback Todd Husak, who takes to the air more often than a hyperactive sparrow in a backyard full of cats.
Senior free safety Rafell Jones (groin) and senior cornerback Leland Gayles (stinger) should be back this weekend, and they will be needed to try and contain the Cardinal's Troy Walters, the only man who regularly burned Chris McAlister last season.
Arizona also needs to improve its pass rush, which didn't put enough pressure on MTSU quarterback Wes Counts. That is a must against Stanford unless UA wants to see Walters dancing in the end zone over and over.
As for the reserves on defense, they were dreadful against the Blue Raiders. If injuries, which are a fact of life in football, continue for the UA defense, then things could turn real ugly by season's end.
SPECIAL TEAMS
Someone really, really needs to hypnotize Mark McDonald into believing he's back at the Holiday Bowl. He went 3-for-3 there on field goals.
After missing his second extra point of the year against MTSU, McDonald heard it from the crowd. If he continues to miss kicks, he'll be lucky to get out of Arizona Stadium alive next weekend.
As for the rest of the special teams, Tomey praised the unit's impressive performance.
"We blocked two kicks and had the punt return, and I think Leon Callen is making a real contribution," he said. "The fumble he recovered was just sensational."
All told, Arizona did improve in three key areas (running game, special teams and being turnover-free). But there is still a lot of work to be done before the Cardinal roll into town this Saturday night.