Dolphins up-end Broncos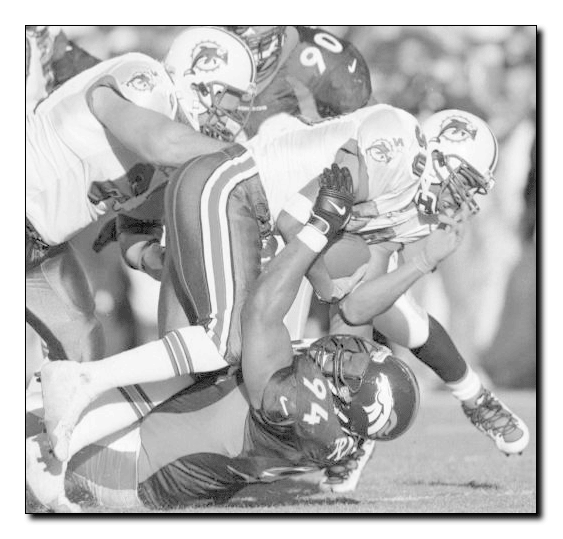 Associated Press
Arizona Daily Wildcat
Miami Dolphins running back Bernie Parmalee is pulled down for a 4-yard loss by Denver Broncos' Keith Traylor during the second quarter of their divisional playoff game at Denver's Mile High Stadium on Jan. 9, 1999. For more than a year, New York Jets linebacker Bryan Cox has been urging coach Bill Parcells to sign Parmalee. On Sept. 7, 1999, two days after Miami let Parmalee go, Parcells did just that.
By The Associated Press
Arizona Daily Wildcat, September 14, 1999
Associated Press
DENVER - John Elway wouldn't have had it any other way.
If someone had to spoil his retirement party, it might as well be Dan Marino, the last quarterback left from that illustrious class of 1983.
With some major help from the special teams, who blocked a punt and a field goal to set up 10 points, the Miami Dolphins beat the Denver Broncos 38-21 last night, spoiling Brian Griese's coming out party as Elway's successor in the Broncos' first game in the pursuit of a third straight Super Bowl title.
It also put a damper on the halftime ceremony in which Elway's name and number were placed in the Broncos' Ring of Fame.
Marino, who was 15-of-23 for 215 yards as he began what might be his final quest for an elusive Super Bowl ring, had a 12-yard TD pass to rookie fullback Rob Konrad and a 4-yarder to O.J. McDuffie.
Karim Abdul-Jabbar and another rookie, J.J. Johnson, had 1-yard TD runs and Olindo Mare added a 37-yard field goal as the Dolphins ended Denver's 24-game regular season home winning streak that extended back to December 1996.
Griese, selected over Bubby Brister by coach Mike Shanahan to start in Elway's place, wasn't bad, finishing 24-of-40 for 270 yards and throwing TD passes of 61, 11 and 4 yards to Ed McCaffrey, the last coming with 34 seconds to play. He also was sacked with about four minutes to play by Rich Owens and fumbled with Jason Taylor recovering in the end zone for the Dolphins' final score.
But his arm didn't present the fear factor Elway's did, allowing Miami to play eight men close to the line of scrimmage to shut down Terrell Davis, who finished with 61 yards on 19 carries.
Late in the first half, for example, Griese underthrew a wide-open McCaffrey, who had to come back for the ball and dropped it.
Griese started off like another Elway, hitting McCaffrey between Brock Marion and Shawn Wooden for the 61-yard score on the first series of the game.
The Broncos held their 7-0 lead into the second quarter and looked about to go ahead 10-0. But Lorenzo Bromell blocked Jason Elam's 44-yard field goal attempt and Terrell Buckley returned it 43 yards to the Denver 36. Four plays later, Abdul-Jabbar took it into the end zone to tie the score.
Then Marino took the Dolphins 80 yards in seven plays, highlighted by a 40-yard pass to Tony Martin, the new speed receiver signed as a free agent. Marino capped that one with a 12-yard pass to Konrad, all alone in the right flat.
On Miami's next possession, Greg Jeffries partially blocked Tom Rouen's punt, setting up Mare's field goal with one second left in the half making it 17-7.
Johnson scored to cap the opening drive of the second half, 65 yards in nine plays that give Denver a 24-7 lead. Griese's second TD pass cut it back to 10.
But then Miami middle linebacker Zach Thomas sacked Griese on a fourth-and-1 at the Dolphins' 40. Marino then completed passes of 11 yards to Troy Drayton, 20 to Martin, 14 to McDuffie and 4 to McDuffie for the score that made it 31-14.