Back to Basics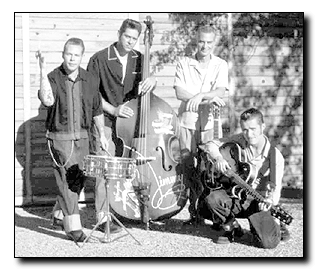 Arizona Daily Wildcat
Courtesty of Johnny and the Blades The swinging tunes of Johnny and the Blades will be coming to the Seven Black Cats club located at 260 E. Congress St. on Monday at 10 p.m.
Johnny and the Blades, a swinging band hailing from Santa Fe, N.M. which is set to visit Tucson Monday, dole out a slick 13-song joyride, delving straight into the roots of the rock-a-billy lifestyle with their new release Eat at Fred's Place. The group understands the true beauty of simplicity by sticking to hymns revolving around the basics - cars, girls, hair and of course, drinking.
The first track, "Sun Don't Shine," sets the stage for the album with its story of drowning oneself with a little help from a bottle of gin and a pack of Lucky Strikes.
Johnny and the Blades, specializing in the sound that is rock-a-billy, had the pleasure of being interrogated by an Arizona Daily Wildcat reporter. As he grilled the members of the band, much was revealed about these young men:
Wildcat
How would you fellas classify your music?
Johnny & the Blades
Rock-a-billy, yup.
W
How do you like your hometown Santa Fe?
JB
Actually 3/4 of us hide out from various law enforcement agencies and bounty hunters in Taos, New Mexico, nestled in the Sangre De Christo mountains; Jimmy (our upright bass man) lives in Denver so he can help make all that delicious Coors beer.
W
Lovers lane or the drive-in movies?
JB
We wouldn't know, we're four fresh and innocent young virgins!
W
Bowling or playing chicken?
JB
Unfortunately, the Taos bowling alley closed many moons ago, so we'll meet you Monday nights at nine at Holiday Bowl in Albuquerque!
W
Wingtips or black-buckle boots?
JB
Wingtips for dancing, boots for walking barefoot & pregnant.
W
How long have you fellas been playing devil music?
JB
With a couple line-up changes, the band has been at it about five years.
W
Major influences/bands you're into now?
JB
Mostly, we're influenced by the spirit and energy of the crazy blend of hillbilly, jazz, blues and bluegrass music innovated by Gene Vincent, Carl Perkins, Billy Riley, Johnny Carroll, Joe Clay, etc., ... and maintained by The Blasters, Restless, Robert Gordon, Planet Rockers, Hillbilly Hellcats, and more rock-a-billy bands appear every day!
W
How is the new guitarist working out?
JB
Noah 'Get It' Gietka has got it!
W
What kind of covers do you fellas like to do?
JB
We try to do mostly original material but when you see us live you might recognize some Carl Perkins, Blasters, Ray Smith, Billy Riley, Rock 'n Roll Trio.
W
James Dean or Marlon Brando?
JB
Currently, Marlon is the coolest, that fat cat don't worry 'bout nothing!
W
Elvis or Johnny Cash?
JB
This is another of them 'trick' questions ain't it?! I'd like to see them sing "Mean Eyed Cat" together (with Scotty and Bill of course)
W
If Hollywood decided to remake the classic "West Side Story," casting the Backstreet Boys and N'SYNC as rival gangs, with cameo appearances by both the Spice Girls and Britney Spears (as gang girlfriends), who would emerge victorious after the final climactic brawl?
JB
They'd probably have their handlers, managers, PR people, A&R people and record exec's draw up a multi-million dollar contract that would make everybody happy!
W
Do you think that you fellas (playing the rough-and-tumble out-of-towners just rolling through on their way to Vegas to do some serious hard rockin') could kick the cast's butt?
JB
I don't know, those guys are from the 'back' streets and I'm a little scared!
W
Do you think that after you guys all brawl maybe you could teach them how to play good music?
JB
Maybe they could do some 'Jordanaires'-esque doo-wop background vocals and Blue Caps clapping!
W
Anything you fellas want to get off your chests while we're at it?
JB
Maybe this "Shiela Forever" tattoo.
Johnny and the Blades are scheduled to appear at a little club known as Seven Black Cats, located at 260 E. Congress St., on Monday evening around 10 p.m., and the group is set to rock this town - rock it inside out.