Start of Pac-10 play awaits UA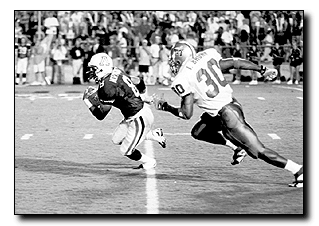 Ian C. Mayer
Arizona Daily Wildcat
UA senior wide receiver Dennis Northcutt escapes a defender during last Saturday's game against Middle Tennessee State. Northcutt has been forced to shoulder the load with receivers Brad Brennan and Malosi Leonard out with injuries.
UA head coach Dick Tomey has preached for years that non-conference football games are just a preseason of sorts.
The whole idea is to gain experience by playing with teams out of the conference, so Arizona can be better going into Pacific 10 Conference play. This year Arizona took its lumps, losing 41-7 to No. 3 Penn State and coming back from 18 points down to beat Texas Christian 35-31.
Now, though, the real season begins this Saturday night at Arizona Stadium against Stanford (1-1 overall, 1-0 Pac-10).
"Our guys know this is where it all starts," Tomey said. "In a conference each game is precious. Every team in the conference can beat every other team."
After beating Middle Tennessee State 34-19 last Saturday, the Wildcats enter the game at 2-1 overall. Stanford fell to Texas 69-17 in its opener, but rebounded well by routing Washington State 54-17.
"We're really looking forward to playing Stanford," Tomey said. "I think they've put the Texas game behind them, and I think last week's game is more of an indication of who they are and what they can do."
Arizona has looked shaky, even in its two victories, but junior quarterback Ortege Jenkins said he expects UA to be ready.
"It's not like we have a choice," he said. "The schedule says we have to play them."
Senior wide receiver Dennis Northcutt said the Wildcats need to repeat their turnover-free performance against MTSU.
"We've got to get better every week," he said. "Now we're going into conference and with the way we've been playing in the past, there can't be no mistakes. You know how conference games go, nobody's the favorite."
Senior running back Trung Canidate said it all comes down to being mentally and physically prepared.
"We're going to get in, watch some film on them," he said. "They played a tough Texas team there. They've established a new defense we'll have to deal with. But we just need to play physical ball baby."
Tomey said yesterday that he expects that most of the Wildcats' injured players will be back for Stanford this weekend.
"We are certainly in a lot better health than we were last week, but our injury list after the Middle Tennessee game was much longer than after any other game we've had," he said. "I don't think injuries will be a factor this weekend."
Several players sat out against MTSU, including cornerback Leland Gayles (stinger), free safety Rafell Jones (groin), defensive tackle Keoni Fraser (ankle), defensive tackle Idris Haroon (ankle), wide receiver Malosi Leonard (knee) and wide receiver Brad Brennan (hamstring).
As for players who got hurt in the game, right guard Marques McFadden looked better after injuring his knee against the Blue Raiders.
And then there's senior wide receiver Dennis Northcutt who got hit hard while running back a punt.
"I just got hit in the groin, got hit pretty bad," he said. "I tried to walk it off but by that time, it was in my stomach and it just wouldn't go away and I started feeling dizzy and sick. So I came in here (the locker room) and rested it and it went away."
Northcutt said he is feeling fine now and will be ready for Saturday's game.