Integrative meds may prevent heart disease, Weil says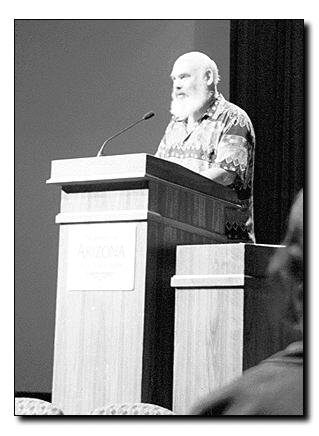 Randy Metcalf
Arizona Daily Wildcat
Dr. Andrew Weil, head of the UA's Integrative Medicine program, spoke yesterday in University Medical Center's Duval Auditorium. He hopes to develop medicine that will both prevent and contribute to the treatment of cardiac disease.
Hospitals around the nation watched by satellite as Dr. Andrew Weil and a group of doctors yesterday spoke about a need to shift from conventional to integrative medicine in the prevention and treatment of cardiac disease.
Weil is the director of the University of Arizona's Integrative Medicine Program and has written seven books, including the international bestsellers "8 Weeks to Optimum Health" and "Natural Health, Natural Healing."
"Before 1900, heart attacks were very rare," Weil said. "Since then we have had a change in lifestyle. Diseases of the heart are diseases of the lifestyle."
Other presenters were Dr. Tracy Gaudet, Dr. Richard Liebowitz, both of the UA's Integrative Medicine Program, and Dr. Brian Olshansky of Loyola University Medical Center. The presentation was moderated by Dr. Russell Greenfield, also with the UA's program.
Each of the presenters were given about 10 minutes to express their own opinion about integrative medicine and the medical community.
"It's not only the HMO environment that has changed medicine for the worse. It's also the role which physicians have taken," Liebowitz said. "Prevention is not considered important."
A focus of the program was exploring the medical community's current attitudes about patients.
"Patients are no longer patients," Olshansky said. "They've become customers. Filling out what to bill them for has become more important than filling out the patient's chart."
It is that very reason that Olshansky said he switched to the practice of integrative medicine.
Integrative medicine is more prevention-oriented as opposed to only giving treatment once there is a disease present.
"We need to change medical education so that physicians can give exact answers, not just generalities," Greenfield said.
Some case descriptions were presented after the presenters' discussion on the need for a shift in philosophy.
The first case discussed was a 52-year-old black woman who is concerned with her chance of having heart problems. Her mother died of heart complications - acute myocardial infarction - at the age of 56.
The daughter was taking several vitamins, but had a poor diet that included the frequent consumption of fast food. She has been diagnosed as having borderline high blood pressure as well as reporting to her physician that she experiences cold feet and hands.
Following her case history, the panel began a discussion about possible treatments in order to show the difference in how integrative physicians and conventional physicians practice.
"I would change many things about this person's diet," Gaudet said. "If she is going to eat most meals out I think she needs guidance on what to order."
Besides diet, the panel said another important factor in the prevention and healing of disease is having a strong support group of family and friends.
This group can help the patient remain positive, said Olshansky.
"The power of the mind is extraordinary. I've seen it help a person beat cancer when her condition looked very grim," he said.
The integrative medicine presentation's aim was "to foster the redesign of medical education to incorporate the philosophy of integrative medicine." The presentation was broadcast live to several satellite sites around the nation.
Some sites were Allegheny General Hospital in Pittsburgh, Beth Israel Hospital in New York City, Loyola University Medical Center in Illinois and St. Mary's Holistic Care in Indiana.
The presentation - a part of the integrative medicine mini-conference series - brought about 50 people to the DuVal Auditorium of the University Medical Center.
The presentation ended with a question and answer session that featured questions from the audience and from all of the satellite sites that faxed questions during the discussions.