No problems reported in union asbestos removal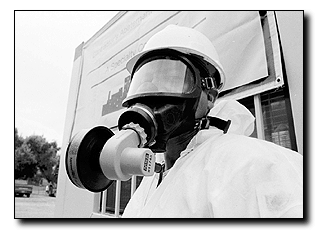 Matt Heistand
Arizona Daily Wildcat
Ronnie Felix, a supervisor at Contractor's Abatement Service Inc., wears protective gear to shield him from the harmful effects of asbestos yesterday afternoon. Eighty-five percent of the asbestos abatement has been completed.
UA and construction officials yesterday said there haven't been any problems with the asbestos abatement in the Memorial Student Union.
If the process continues to go smoothly, the demolition of the union's east wing, including Gallagher Theatre, could happen as soon as early October, said David Seese, project manager for Swinerton & Walberg Builders, the company heading up the union renovations.
"It's just proceeding really well," Seese said.
Seese said about 85 percent of the abatement has been completed. The areas currently being treated are the basement and second floor.
Asbestos is a mineral that can cause lung cancer and respiratory disease. When the student union was built, an asbestos-containing mud substance was sprayed on the steel beams to fireproof them.
The workers performing the abatement have to wear protective masks and "throw away suits" as a precautionary measure. Oxygen is given to them through a pump in the mask.
To remove the asbestos, contractors have been wetting down the beams and scraping it off.
"Several inspection agencies, including the Environmental Protection Agency, are monitoring the site about three times a week," said Del Speidel, a part-owner of ACT Environmental Inc., which is overseeing the abatement.
Speidel said the process has been somewhat complicated because they are not working on the entire building at once.
"Basically, when you're demolishing a building and trying to keep a part of the building operational, it's unique," he said.
The University of Arizona's Department of Risk Management has also been inspecting the asbestos reports from ACT.
Other than the EPA, inspectors from the Arizona State Risk Management office have been at the UA to make sure that asbestos has not been released into the air.
Air monitors throughout the student union have been installed to track any asbestos in the air.
Seese said they have been "given a clean bill of health" from each inspection organization.
Contractors began working on the asbestos removal Aug. 23 - the first day of classes for the fall semester. Gilbert Davidson, assistant project manager for the student union renovations, said workers are operating on a 45-day deadline, meaning they have until Oct. 7 to complete the removal.
Once all of the materials containing asbestos have been "containerized" and shipped to a landfill in Phoenix, Swinerton & Walberg employees will begin reviewing bids for the actual demolition of the building.