Defending the air Attack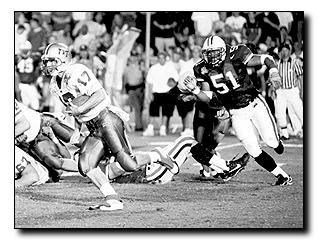 Matt Heistand
Arizona Daily Wildcat
UA junior defensive end Austin Uku (51) pursues Middle Tennessee State quarterback Wes Counts (17) last weekend at Arizona Stadium. Uku and the rest of the Wildcat pass-rush unit will be the key to stopping Stanford's aerial attack tomorrow night.
For Arizona to stop Stanford's passing attack, it will take more than just playing good man-to-man coverage in the secondary. It will mean establishing a consistent pass rush, something the Wildcats (2-1 overall, 0-0 Pac-10 Conference) have yet to do this season.
"We need to put the pressure in the quarterback's face all game," UA junior defensive end Joe Tafoya said.
If the No. 19-ranked Wildcats are going to stop Stanford (1-1, 1-0) tomorrow night at 7 p.m. at Arizona Stadium, UA head coach Dick Tomey said it's going to come down to a complete effort on defense.
"Stanford's offense will be a challenge for our secondary, but I think it will be an even bigger challenge for our guys up front," he said. "We have to get some pressure on the quarterback. There is no secondary in the world that can hold up against Stanford if they're not getting in there and putting pressure."
UA senior free safety Rafell Jones, who missed the past two games with a groin injury, said he will be ready for the Cardinal's talented trio of receivers.
"We haven't really been tested the first three games," he said. "We haven't been tested as a secondary as far as one or two guys who have an offensive scheme with one or two receivers that are legit."
Stanford's trio is made up of senior Troy Walters (169 yards, 13 receptions, 1 TD), senior DeRonnie Pitts (146 yards, 8 receptions, 2 TD) and junior Dave Davis (46 yards, 4 receptions, 1 TD).
Arizona's secondary, in comparison, is looking shaky going into the game. While Jones said he is expecting to play, senior cornerback Leland Gayles is out with a shoulder injury.
That puts the spotlight on senior Kelvin Hunter and sophomore Anthony Banks.
"It's not just going to be Anthony Banks, it's going to be everybody, all 11 guys on the defense (need) to step up and be responsible," Jones said. "We expect Anthony Banks to step up and step in like he did (last week)."
Walters said he respects the UA secondary as a whole.
"They're very fast, they have an athletic secondary," he said. "All of them played last year against us. Defensively as a whole they're very fast, aggressive."
But as Tomey said, it's not just the secondary's responsibility to stop the Cardinal offense.
"We're counting on them a lot, our front seven, to put pressure on the quarterback," he said. "It makes life a lot easier on us DB's."
A major key to the pass rush is junior defensive end Austin Uku, who earned a starting spot last week.
"Austin Uku has definitely made an impact, and he is clearly a starter at that position," Tomey said.
Tafoya noted that despite Uku's size, 6 feet 2 inches tall and only 210 pounds, he has an uncanny ability to break past bigger blockers.
"Uku, he is one fast guy," Tafoya said. "He's probably the most athletic guy on the defense. He's going to be a factor this weekend. With his type of speed he can get past some of those big offensive linemen."
Uku said it comes from his days as a running back in high school and junior college.
"Growing up I wanted to play running back," he said. "It's a lot more fun scoring touchdowns.
"You always like carrying the ball, defense was always just second."
One aspect of playing defense has given Uku a new appreciation for it. But he's still not sure if the quarterback sack ranks up there with scoring a touchdown.
"I don't know, that's a tough question, it really is," he said. "With the touchdown you get the roar of the crowd, with a sack if you get a good one you get the 'ooo!'."
Catching Cardinal quarterback Todd Husak is another matter, though. Texas only caught him twice for sacks in the Longhorns' 69-17 win over Stanford two weeks ago.
All told, Husak has not lost any yards on the ground, instead gaining 30 yards on seven carries. But it's his arm that has the Wildcats' attention, as he's thrown for 420 yards on 32 of 63 passing and four touchdowns this season.
"He is clearly a guy that, as you watch him, he just gets better and better," Tomey said. "He was a young quarterback last year and he has matured a lot. And he is realizing the potential everybody thought he had when he went to Stanford."
The Wildcats' receiving situation isn't as good as the Cardinal's, with senior Brad Brennan (hamstring) and sophomore Malosi Leonard (knee) remaining questionable for the game.
That leaves players like junior Marvin Brown and freshman Bobby Wade to pick up the slack and take the pressure off senior Dennis Northcutt.
"I think those guys are probably going to be one of the most important factors in how successful this team is," UA junior quarterback Ortege Jenkins said. "I don't really see teams playing Dennis the way they've been playing him, just flanking him and not double-teaming him."
Jenkins said the importance of the game to Arizona's season has not been lost on any of the players.
"This game is a huge test for us," he said. "It's a game where we can come out and establish ourselves again, be the Arizona team we want to be."