Gays still not allowed equal rights, renowned activist tells students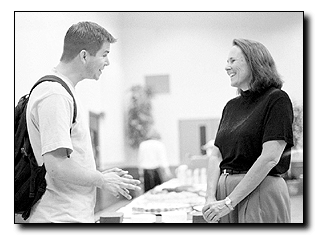 Casey Dexter
Arizona Daily Wildcat
Kerry Lobel, executive director of the Gay and Lesbian Task Force takes a break before her presentation. Lobel was in Tucson this weekend to speak about homosexual civil rights.
A prominent gay rights activist said Friday that some agenda-setting right-wing Republicans are forcing homosexuals to continue fighting for equal rights.
But Kerry Lobel, executive director of the National Gay and Lesbian Task Force, told an audience at the University of Arizona that those legislators and pundits are a dying breed.
Unfortunately, she said, their actions are becoming more detrimental.
"What do we know about people when they're losing power?" Lobel asked about 50 people in the Memorial Student Union Senior Ballroom. "They're at their most dangerous."
She compared the right-wing to a wounded animal, swinging its large tail in continued attempts to quash the advancement of gays in society.
According to Lobel, the right-wing Republican sector has long been an adversary of gays and their allies, and is now losing strength.
Lobel pointed out that "curing" gays of their homosexuality is still on the agenda of many members of the ultra right wing.
"There is a resurgence of energy on painting us as sinful," she said.
However, lawmakers are beginning to recognize the importance of their large voting population, leading to more landmark pro-gay legislation being introduced and adopted at both the state and national levels, she said.
Key to such progress, Lobel said, is visibility.
"Visibility is a good thing," Lobel said. "As a movement, we've got our work cut out for us."
Lobel said television and movies have introduced some positive gay characters, but what ultimately moves people to change their perception of gays is becoming personally acquainted with them.
"We know that when people know us, we transform them," Lobel said.
The transformation process is most apparent among youth " gay and straight alike, Lobel said.
Despite a dismal climate for gay acceptance among children, young people are still particularly active in the movement. Lobel said that most anti-gay violence is between young adults, and the average schoolchild hears derogatory terms for homosexuals 28 times a day
Gay-straight student alliances have been created in junior high, high schools and universities at a rapid pace.
"Young people are defining gender expression as we know it," Lobel said.
As gender and sexual expression evolves, so do the former labels and identities previously associated with gays, she said.
"Kerry represents the pinnacle of the movement," said Nick Ray, a political science doctorate student who hosted Lobel's university appearance.
Ray added that gays do not always stand out based on stereotypes, saying the UA is a place where sexual diversity exists without being obvious.
"Any person you see on the Mall could be gay or lesbian," he said.