Breakdown of a Disaster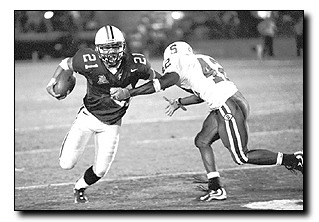 Ian C. Mayer
Arizona Daily Wildcat
UA freshman wide receiver Bobby Wade (No. 21) tries unsuccessfully to escape the grasp of a Stanford defender during Arizona's 50-22 loss to the Cardinal Saturday night. The Wildcats have a lot of work to do before their next game at Washington State this weekend if they have any hopes of competing for the Pac-10 championship.
If the Arizona football team hopes to contend for its first outright Pacific 10 Conference championship, they'd better hope for a miracle.Hopefully, the next four games won't be anything like the first four or the Wildcats (2-2 overall, 0-1 Pac-10) are in for a long season.
Even a decent team can beat Washington State (0-3, 0-1), who has lost to Idaho (28-17) and Utah (27-7) at home, but UA head coach Dick Tomey hopes he will accomplish something resembling decent on Saturday.
"I do not fault the guys we have," Tomey said of his players. "They have worked to be better, but we're not better as a team. It's not a lack of trying. In some cases, it may be that we're trying too hard."
OFFENSE
Maybe it's that the offensive line isn't trying hard enough. After providing good pass protection and so-so run protection for UA's two wins, nothing worked against Stanford's pass rush and run defense.
The players have said over and over again the unit needs time to gel. Well, four games into the season, it's time to stop talking and to start that gelling.
As for the quarterbacks, Keith Smith needs to realize throwing into traffic is a bad idea, and Ortege Jenkins needs to learn to throw the ball away. Jenkins had one loss for minus-23 yards, a loss which forced UA to punt. Stanford scored on the subsequent drive.
"You just need to put your cleats in the ground and go straight forward and take an eight-yard loss and go back in the huddle or throw the ball away," Tomey said as to what Jenkins should have done.
Arizona also found out senior wide receiver Brad Brennan is out for the season. He'll take a medical redshirt to nurse his injured hamstring.
"The earliest he would be able to return would be in four to five weeks," Tomey said. "It will be good for him in the future, but it's not good for us right now."
Even before he found out about the final decision, Brennan was feeling down after the loss to Stanford, despite hauling in the game's opening touchdown.
"It's been since camp that I've been fighting this damned injury," he said. "To be able to come out and catch a ball for a touchdown... it's kind of frustrating to go back to all the rehab that I'd been doing."
Once again, the Wildcats will be looking for another receiver to step up in Brennan's absence, just like they have been all season. Among the contenders will be freshmen Bobby Wade and Malosi Leonard and junior Marvin Brown.
DEFENSE
This was the half of the team that had Tomey concerned the most.
"We're not playing good defense," he said. "You can win a lot of different ways, but you can't win without playing good defense.
"We have nine returning starters on defense who played against Washington last year without Chris (McAlister) and we're not the same team."
The pass rush, or complete lack thereof, will be heavily scrutinized this week. Arizona had no sacks when the players spent all of last week talking about how important it was to put pressure on Todd Husak.
Then there's the secondary.
Even the kids in the Pee-Wee game at halftime were making better tackles than senior cornerback Kelvin Hunter has this season, while sophomore cornerback Anthony Banks needs to realize that you can't see the ball out the back of your helmet.
Hunter is a senior with no excuses as to his poor play so far this year. If one kept statistics on the number of dropped interceptions and missed tackles a player has, Hunter would lead the nation.
Despite some shaky moments, Banks outplayed Hunter. That's not good.
In fact, other than the tenacity of Marcus Bell and DaShon Polk and some strong play from Greg Payne, the entire UA defense has fallen to a level of being absolutely abysmal.
Here's a fact to back that up: in the year of the famed "Desert Swarm," Arizona gave up 30.1 yards per game rushing. This year, Arizona is giving up 35.2 points per game.
Tomey's final words at his Sunday press conference may be the most telling of all.
"We probably overachieved last year, and we're underachieving now," he said. "With underachieving, the place you start is with the head football coach who is the most to blame. Everybody has to take their part of the responsibility and I bear the most part of the responsibility."