Campus-area robberies raise safety concerns for women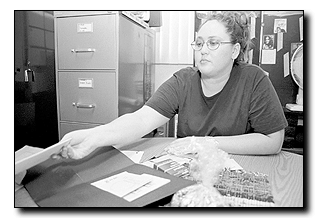 Kristy Mangos
Arizona Daily Wildcat
Programs and Education Services Coordinator Rebecca Knox works in her office yesterday at the Memorial Student Union. Knox organizes self- defense classes at the UA and reinforces the philosophy that the mind is a weapon.
As a string of on-campus robberies keeps the University of Arizona Police Department on guard, other UA officials are lending their support to teach women how to protect themselves.
"It is important that women know they have the right to defend themselves," said Rebecca Knox, programs and education services coordinator of the Women's Resource Center. "They can learn the different tips and tactics."
The center recently began its semester-long nightly self-defense program. The center provides free education and teaches students to be aware and knowledgeable of their surroundings.
Nightly classes are guided by First Contact instructors Michele Meadows, a first-degree black belt, and Janet Umstead, a second-degree black belt - both in the Sei Ryu Kan Kajukenbo self-defense methods - with three other assistants.
Meadows and Umstead are both members of and instructors from the American Women's Self Defense Association.
Women who feel they can defend themselves, particularly women who were raised to defend themselves, also need to be forewarned, Meadows said.
"We aren't against someone already knowing something (about self-defense). Still, they need to practice what they already know (because) the knowledge won't be readily available to you (without practice)," she said.
Robin Baade, First Contact assistant instructor, agreed that women need to learn self-defense, despite any fears they may have.
"I think that people are afraid to learn. It takes a lot of courage for people to even hear about defending themselves because they need to hear the world is not a safe and fuzzy place for women," Baade said
She said while practicing self-defense is crucial, another important step to risk reduction is to avoid putting oneself in a dangerous situation.
"It's very important for women to understand what their rights are about letting people talk to them, touch them (and) make decisions for them," Baade said.
She encouraged women to be vocal in defending their rights.
"You have 100 different opportunities every week to speak up for yourself or not to let people violate your personal space ... not just waiting when you are in a dangerous situation," she said.
UAPD Sgt. Michael Smith also said that while preparation is important, people should avoid potential danger.
Smith warned not to "single yourself out by walking around in dark areas, leaving your items unattended or putting yourself in danger."
He added that the UAPD urges students to "travel in groups, know where emergency phones are, use SAFE rides or call a cab."
While women can take safety precautions, Knox said that the assailant is always at fault for a crime, and no victim should ever feel responsible.
"Victims are asked what they were wearing, what they had to drink or what they were doing there anyway," she said. "If any of those things had been different, it would have reduced the risk but not prevented it."