Spring Fling relocating to Tucson's north side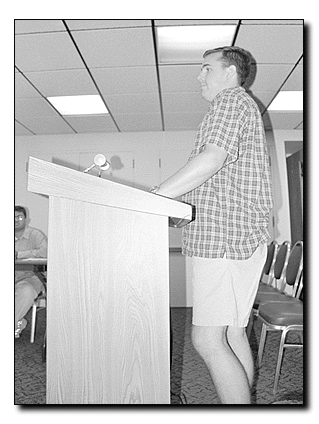 Scott Andrew Taras
Arizona Daily Wildcat
Spring Fling Director Craig Howrich speaks to the ASUA Senate last night. Howrich detailed relocation plans for the spring carnival.
By Ty Young
Arizona Daily Wildcat,
September 23, 1999
With the construction projects underway on the UA Mall, organizers of Spring Fling have made some drastic changes, including the student-run carnival's mission statement.
The most obvious change will be the location. Instead of holding the event on the east side of the University of Arizona Mall, Spring Fling will be held at the Rillito Downs race track, 4502 N. First Ave.
Spring Fling will also be held from April 16 to 18, which is two weeks later than years past. This decision resulted from the rain and snow storms that halted the event last year.
This year, entrance admission prices have been dropped as well. Prices for rides and food will remain the same.
The change in location raised questions concerning transportation of UA students.
"We know that most students on campus do not have cars," said Craig Howrich, executive director of Spring Fling. "We do hope to provide some type of transportation for students."
Howrich said that Spring Fling officials have contacted the university-area SunTran transit system for possible use of their vehicles.
Howrich also proposed a new mission statement to more accurately reflect the event's purpose.
"The mission of ASUA Spring Fling is to provide a mechanism for funding of UA clubs and organizations through an annual student-run carnival," Howrich said.
The ASUA Senate unanimously approved the change at their meeting last night, agreeing with the new focus of the event.
In years past, Spring Fling's mission also included attempts to enhance the student business skills of the participating clubs while giving back to the community of Tucson.
Each year, clubs and organizations recognized by ASUA are invited to earn money during the four-day long carnival. This is thought to increase the business skills of the students who must organize their booths with this in mind.
"We felt this was pretty much secondary because it is not the reason for Spring Fling," Howrich said. "Students enhance their business skills by working at the event."
Spring Fling draws both students and other Tucson residents, but Howrich said that its mission statement should not include the idea that the event "gives back to the community."
"We felt that this was not necessarily the best focus of this statement," he said.
In other student-related issues, ASUA is preparing for Wildcat Warm-up, which will be held on October 16 at 4 p.m., before the UA football game.
It is designed to offer students and families an alternative to the popular tailgating events, often involving alcohol, held on the east side of campus prior to home football games.
"It is family oriented, and will include things like face painting and balloon animals," said Amanda Martin, organizer of Wildcat Warm-up. "There will also be free food and drinks."
Martin also said that the UA cheerleaders and former athletes will be involved as well.