'bottom of the barrel'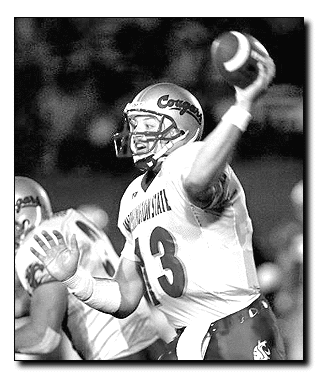 Associated Press
Arizona Daily Wildcat
Washington State's senior quarterback, Steve Birnbaum, gets ready to air it out against Stanford earlier this season. The Cougars are in the midst of an 11-game losing streak, but hope to break that funk as the slumping Wildcats stroll into Pullman for a 1 p.m. contest Saturday.
The Washington State Cougars are in the midst of a school-record 11-game losing streak, are 0-3 for the first time since 1991 and lost last week to the less-than-formidable Idaho Vandals team.
"We're at the bottom of the barrel right now," WSU coach Mike Price said. "We've never been worse and we have to climb back out and we've only got one way to go."
Despite a lack of offensive production this year (WSU is only scoring an average of 13.7 points per game), the Cougar passing attack has been consistent - WSU passed for 301 yards against Stanford and 295 yards against Idaho last week. WSU quarterbacks Steve Birnbaum and Jason Gesser have each seen action this year, but Birnbaum is slated to start against the Wildcats.
"Gesser is the better runner, but Birnbaum does both (runs and throws)," UA head coach Dick Tomey said. "Birnbaum is the most experienced, he is making some good decisions. We thought going into our game last year he had done some real good things."
Birnbaum has thrown for an average of 177.7 yards this year and ranks fifth in the Pacific 10 Conference in passing.
The Cougars have many passing weapons at their disposal - 10 different receivers have caught passes this year and eight different receivers caught passes against Utah and Stanford. Birnbaum's favorite receiver targets are seniors Nian Taylor and Leaford Hackett.
UA's secondary this season has been mediocre at best and Birnbaum and the Cougars will most likely look to exploit this potential weakness.
"They have a real good corps of receivers and anytime you have people spread all over the field like they do, they're dangerous," Tomey said.
The Cougars rely mainly on their passing game but still boast an average running game to keep teams honest. Freshman running back Deon Burnett is the leading rusher through three games with 38 carries for 178 yards.
Burnett will be running behind an offensive line that is very big. The average player weight on the WSU line is over 300 pounds and this could pose problems for a UA defense that gave up an average of 5.1 yards per rush last game against Stanford.
One glaring statistic from the Cougar offense is its turnover margin. WSU is dead last in the Pac-10, turning over the ball nearly two more times than their opponents.
Price acknowledged that the turnover ratio has been a key reason for his team's poor performance thus far.
"We are making mistakes, and when we make mistakes we're not handling the adversity well," he said.
On defense, Price said that the Cougars' focus will be directed at UA senior wide receiver Dennis Northcutt.
"He's having an awesome year and we've got to stop him, we've got to double cover him," Price said. "He's frightening in the kicking game also."
Northcutt is currently sixth in the nation in receiving yards per game and fourth in the nation in punt return average. Price said that the Cougars will not have the luxury to cover Northcutt man-to-man like they did last year and will instead have to rely on double teams to contain Northcutt.
WSU cornerback Lamont Thompson - who had a career game against Utah two games ago with a team-high 12 tackles, including two for a loss - might present problems for Northcutt if he receives safety help.
Price said he was also concerned with the Wildcat quarterbacks and senior running back Trung Canidate, in addition to Northcutt.
"They have big hitters, home run hitters on offense like the two quarterbacks," Price said. "Canidate is an All-American candidate but their best player is the wide receiver Dennis Northcutt, no question."
The Cougars' defense is currently ranked sixth in the Pac-10 in total defense, fifth in rushing defense and sixth in pass efficiency. UA's Pac-10 offensive statistics read similar - sixth in total offense, seventh in rushing offense and sixth in passing.