In desperate need of a win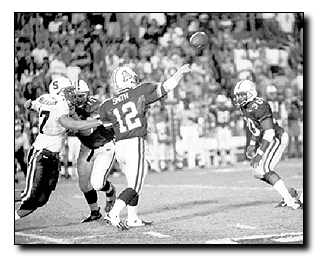 Nicholas Valenzuela
Arizona Daily Wildcat
UA senior quarterback Keith Smith stands back in the pocket and delivers a pass to a wideout during last Saturday's 50-22 loss to the Stanford Cardinal. Smith and the Wildcats will try to get back on track tomorrow afternoon at 1 p.m. when they travel to Pullman, Wash. to take on the Washington State Cougars, a team that has lost 11 games in a row.
two years ago, the Arizona football team came off a disastrous loss at home to Washington and limped into Washington State. The Wildcats went up early but too many injuries eventually killed their chances and Arizona fell to the Cougars in overtime 35-34.
From that point on, the Wildcats won 16 of their next 17 games and head coach Dick Tomey called it one of the greatest turning points in team history.
As the Wildcats approach Saturday's game, it's dej· vu.
Arizona (2-2 overall, 0-1 Pacific 10 Conference) is coming off a 50-22 loss at home to Stanford as it rolls into Pullman, Wash., tomorrow afternoon at 1 p.m.
While the Wildcats hope to turn their season around again at WSU, this time they'd rather do it with a win.
"This is a huge game for us this week because both teams need a win," UA head coach Dick Tomey said.
Arizona needs a win badly, but so does WSU.
The Cougars are a far cry from the Rose Bowl-bound team UA lost to in 1997. This year's WSU squad is 0-3 (0-1 Pac-10) and has lost 11 in a row dating back to last season.
"We have great respect for the job coach (Mike) Price has done," Tomey said. "They're struggling, and we are too. Both teams have their backs against the wall, so I think it will be a tough, physical game."
Add the fact that the game is being played on artificial turf, and the Wildcats know they're going to be in for a tough game.
"Last week my knee swelled up pretty bad," sophomore wide receiver Malosi Leonard said. He was coming off knee surgery, and the Stanford game was his first back in the lineup.
"But this week is turf, and we're going to get pretty banged up on it," he said. "At least next week we have a bye."
Arizona isn't looking ahead to its week off, instead focusing on beating a Cougar team which fell in Tucson last year by the score of 41-7.
"It's going to be a game. We're struggling, they're struggling," junior defensive end Idris Haroon said. "Watching film, they have a lot of good players. We're going to have to go out there, it's about who wants it more."
If the Wildcats are to have any chance, it will be up to Haroon and the rest of the UA pass rush to get some pressure on WSU senior quarterback Steve Birnbaum.
Against the Cardinal, UA couldn't manage a single sack and only two tackles-for-a-loss.
Haroon and his fellow pass-rushers know it'll take some work to erase the current deficit of 17-7 in which UA has been outsacked.
"It's more like we're just not getting to the ball," he said. "We have a 'canine' unit that goes out there for the pass rush. Quarterbacks are doing three step drops, a lot of our stunts aren't getting finished. I can't pinpoint one particular thing. It's the combination of a lot of things."
Though senior cornerback Leland Gayles (shoulder stinger) has been able to practice this week, his gametime status is still somewhat uncertain.
Last week, without Gayles, the UA secondary was burned by Stanford's receivers. But Tomey said it wasn't the defensive backs' fault as much as it was the lack of a pass rush.
"We're not getting home on defense," he said. "You have no chance in the secondary if you can't get someone in the quarterback's face and make him hurry."
Arizona's run defense also has Tomey concerned after giving up 214 rushing yards to the Cardinal.
"I can't stand games like we're playing," Tomey said. "I just can't stand them, because I like to play good defense. I like 1-0 baseball games and football games where you have some control over what's going on. We're going to play better defense. I promise you that."
Haroon said it's all a matter of going back to basics.
"Defensively we have to execute our plays right. We have to tackle, we have to hustle, we have to pursue the ball," he said. "The main thing is we have to go out there with a lot more enthusiasm then we have in the past, start having fun again. Right now we seem like we're not having fun out there, there's not any enthusiasm. We have to stick together as a defense and not point fingers at one another, that's how teams fall apart."
Offensively, the Wildcat quarterbacks have to focus on cutting down on their mistakes, while the offensive line has to do a better job of protecting them.
Junior quarterback Ortege Jenkins was sacked six times for -76 yards and threw one interception. Senior quarterback Keith Smith threw two interceptions, playing on not one but two sore feet.
"They're getting better. I got a little bit of turf toe on the left one, the right one my Achilles and everything else is feeling a lot better," he said. "I was able to practice full-go yesterday so I felt really good, I haven't been able to do that in a while. It's just frustrating (because) I haven't had both of my feet messed up like this, but hey, it's football."
Smith and Jenkins have acknowledged their recent mistakes and are doing what they can to correct them.
"O.J. and I understand we've been making a lot of mistakes," Smith said. "We just need to break the ice and put more pressure on the defense. We need to start running the ball more."
Arizona's ultimate goal is to be more physical against the Cougars than it was against the Cardinal.
"We need it, we have to have this game," Smith said. "I think we're going to put our whole bodies on the line to do whatever it takes to get this win. We've got a bye week next week so we'll get the chance to rest our bodies and get ready for the rest of Pac-10 play."