Proposed financial aid cutbacks prompt students to call Congress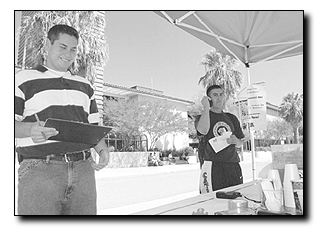 Arizona Daily Wildcat
Photo by: AARON FARNSWORTH ASUA president Cisco Aguilar (left) registers communication freshman Luis Gaitan as an Arizona voter. ASUA had students call their representatives and congressmen yesterday concerning a planned financial aid cut.
By Ty Young
Arizona Daily Wildcat,
September 28, 1999
A student's rights organization and ASUA began a week-long campaign yesterday that arms students with cellular phones to protect federal financial aid from proposed cuts.
The Arizona Students Association, which is leading the campaign, is inviting students to telephone a congressman from their home state to voice their disapproval toward the proposed budget decreases for student financial aid before Congress convenes on Oct. 1.
If passed, the U.S. House of Representatives proposal would slash federal aid by up to 18 percent.
ASA, an organization composed of 12 students from the three universities, attempts to protect the rights of college students and lobbies on their behalf. Students pay a $1 fee each semester to support the organization.
Representatives from the Associated Students of the University of Arizona also participated in the event. The student groups are operating the campaign from a booth located on the UA Mall.
"We're letting our congressmen know that, even though they are in D.C., they still have an impact on students and their constituencies," ASUA President Cisco Aguilar said.
ASUA community relations director Tracy Oberg said student response has been very good.
"We've had a lot of students come out," she said. "We'll be here all week, so hopefully we can get more."
Although some congressmen could not be reached, students still welcomed the chance to voice their opinions.
"I just called and they said Senator (Jon) Kyl (R-Ariz.) is out of the state and his voice mail isn't turned on until after hours," said Keith Udell, a civil engineering sophomore. "I do think it is important to let them know our feelings. Right now they're not giving us enough to live on, and I don't have time to hold a job."
To reach lawmakers, students at the ASUA booth call the "Alliance To Save Aid Hot Line" number. From there, they are either allowed to speak to a congressman of their choice or leave a message.
All three Arizona universities are participating in the campaign. On Friday, Arizona State University students held a protest against increasing tuition. Financial aid decreases were also mentioned during the protest.
While the target of the ASU rally was different than the UA campaign, both involved increasing the amount of money students must pay in order to attend the three Arizona universities.
Aguilar said financial aid has multiple benefits for students and brings diversity to college campuses.
"It brings different perspectives into the classrooms," he said. "It brings people of different backgrounds together so we can all learn from each other."
Aguilar said there are other important factors that lead to increased tuition, including the federal aid given to students.
He said decreased government aid leads to a lower enrollment, forcing the universities to raise tuition.
"Before we focus on tuition, we need to focus on what affects tuition," he said. "It is important for students to know that student aid does have an impact on all students."
The campaign to reach legislators will continue from 11 a.m. until 1 p.m. all week.