SamÔs Place revenue not meeting expectations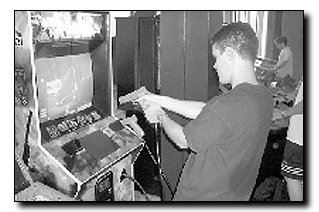 Matt Heistand
Arizona Daily Wildcat
Civil engineering sophomore Jared Ellerhoff plays "Area 51" yesterday afternoon at Sam's Place in the Memorial Student Union. Business at Sam's Place, the UA's games room, is not meeting the expectations of union officials.
Since Sam's Place relocated from the basement of the Memorial Student Union to the first floor two months ago, business has yet to live up to the expectations of activities personnel.
"It's not doing as well as we had hoped," said Jen Woodward, assistant coordinator for campus activities.
Woodward said she thought business would increase because of the increased visibility that the new location offers. Although profits have not slipped, they are not meeting expectations - especially for the video games.
"We thought the video game revenue was going to go up, but it didn't," she said.
Before on-going renovations to the east wing of the union forced the move, Sam's Place was garnering about $3,500 a week from its selection of video games. That amount has stayed the same at the new location, but Woodward said they are losing money in other areas.
Because the union's first floor has less space than the basement, Woodward said they had to reduce the number of pool tables from 20 to 10. They also were forced to get rid of their Ping-Pong tables.
Any money collected from the pool tables is used to cover the cost of student workers and other related expenses.
"We really just want to provide a service with the pool tables and keep the cost low for students," Woodward said.
Some UA students said the new location is not that bad, but the basement was more convenient because of several amenities that were located near the old game room.
"I kind of like it better downstairs just because they had the computer center down there," said Alex Porges, a microbiology senior.
Porges said he would frequently check his e-mail and work on the computers while visiting Sam's Place.
Mark Mosby, a marketing senior, said he does not have a preference between the enclosed atmosphere in the basement and the openness of the first floor.
"Either one is fine - they're about the same," Mosby said.
Woodward said the weekly pool tournaments that begin this week should help to promote Sam's Place's new location. Tournament games will be held each Wednesday at 5 p.m., with a $5 cost to each participant.
All of the entrance fees are divided up among the winners, including 50 percent to the first-place player.
Gavin Mizuo, tournament director and an agriculture junior, said they also hold non-competitive competitions for players who want to play for fun.