UA athletes fight to balance academics and athletics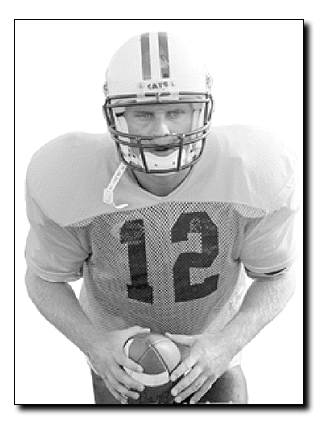 Wildcat File Photo
Arizona Daily Wildcat
Senior quarterback Keith Smith prepares to take the ball back to pass during practice. Smith starts his days with a 6:30 a.m. practice and is on campus practicing and taking classes until team meetings wrap up most nights at around 10 p.m.
Over the next three days take a look inside what goes on in the Department of Intercollegiate Athletics, how the athletes look at those around them and struggle to balance their lives as students, athletes and as young adults with a scant amount of free time.
They do this under the microscope of public and media scrutiny, something they say they are more than willing to deal with and that they expect to deal with.
But it's not easy, especially when things go bad. From the views of the athletes and coaches to the students and faculty who surround them on the UA campus, here is an in-depth look at the world of the athletes and how it crosses over into the one everyone else lives in.
What being a Division I athlete means
A Division I athlete is anyone participating in one of the 18 sports run by the Department of Intercollegiate Athletics and administered by the NCAA.
It is a group that includes athletes on full scholarships, paying for their tuition, room and board, textbooks and additional supplies. It also includes students who participate without scholarships, those who walk onto teams in the spring and fall.
But being an athlete doesn't guarantee an easy ride for anyone, even with the money.
Balancing time for athletics and academics isn't easy. But the athletes aren't about to start crying about not having any free time even if the average student can't empathize with their plight.
"It's really hard for a student to know, but I understand there are people who work all day and then go to class, it's the same thing," senior quarterback Keith Smith said. "If it's a student who doesn't work, I want them to come and enjoy a day with me, and follow me around all over the place. Do interviews, go to 6:30 in the morning practice, three classes a day and then do more meetings and then be here till 10 o'clock at night. Just to deal with all the mental stuff and then go home and do a six-page paper. It's not easy."
While Smith said some days he's "sleepwalking" across campus, he knows there is a system in place to help him and any other athlete should they stumble academically or personally.
The CATS system, which stands for Commitment to an Athlete's Total Success, was founded by former athletic director Cedric Dempsey, now the head of the NCAA. It is divided into four parts, CATS Academics, CATS Personal Development, CATS Strength and Conditioning and CATS Medical Services.
"We do all kinds of things with regards to life-skills, time management, personal counseling, career development and community development," said Becky Bell, the head of CATS Personal Development. "It's a visionary thing they (Dempsey and current associated AD Kathleen LaRose) started. It is about the athletes' total experience here at the university, not just about programming and services."
Football freshman wide receiver Bobby Wade said he feels "fortunate" to have the CATS services, but it's still largely up to the athlete to decide his or her fate.
"It's definitely harder (than high school)," Wade said. "Fortunately for us as football players we have an itinerary that tells us when we're supposed to be at practice, lifting weights, getting treatment. It's the off-time you have to watch. Your personal time is the really hard time to manage, you have to show a lot of maturity in handling that."
And then there's the athletes who come to UA without any of the benefits of a scholarship. Even the scholarship athletes will say they don't have it anywhere near as bad as the walk-ons do.
For the love of the game
Jim Wendler, a senior fullback on the football team, walked onto the team in the spring of 1995.
It wasn't easy by any stretch of the imagination to endure all that the scholarship players had to deal with, but without any of the benefits.
"It was very difficult, I think, because no one knows your name," he said. "You're stuck in the dungeon, which is a locker room in no way related with the football locker room, and you're just kind of used as a tackling dummy."
Wendler said it takes a certain kind of mentality to be a non-scholarship athlete.
"You've just got to persevere, you've got to have a good sense of humor, too," he said. "Usually guys who walked on played a lot in high school, and all of a sudden they're scrubs. Having your ego shot down like that is something else. You've got to keep your head on straight and realize things can change for the better."
Wendler said it's not about the money, but that it's a sign of respect, to have earned his scholarship, which he did in Aug., 1998. Wendler said nothing has changed besides getting some money and where his locker was located, though there was one other thing.
"I got to learn the secret handshake, like on that Stone Cutters episode of 'The Simpsons,'" he said with a laugh. "Well, that's what (senior center) Bruce Wiggins told me that night at dinner at Camp Cochise."
The transition from high school to college
The Rolling Stones might have sung "Time is on My Side" but one would be hard-pressed to find a freshman athlete at Arizona who agrees with them.
"It's a big, big difference, between all the time I spend studying and all the time I spend working out, it's really, really hard," baseball freshman Matt Abram said.
Freshman volleyball player Shannon Torregrosa said the difference between high school and college is seen best in class.
"It takes so much of your time, first of all, and it's different in high school, teachers give you more time, here they don't care who you are," she said last week. "It's like today, we're leaving for the UCLA game and we're missing a day of school, and I'm missing an exam in one class. They said I can make it up, but instead of multiple choice it's going to be essay and it's supposed to be a lot harder."
Wade said the difference is in how an athlete handles himself or herself.
"I think the different aspect really is the maturity level," he said. "It's a maturity jump as far as me personally and as far as the level of play on the field and the level of life off the field. You've got priorities you've got to establish by yourself. You don't have your parents to be there for you, I mean, you've got coaches, but it's basically you on your own."
Growing up, though, hasn't been easy, as Wade can personally attest to.
For every good moment, for every time it's kept on the field, something can happen off the field that can blacken the eyes of everyone in the athletic department.
Wade experienced that first hand with an incident at the CatCard office that made headlines for days, and from that to even more extreme examples across the country, it has never easy being an athlete living under the microscope.
Because sometimes the lens cracks and what comes out isn't what everyone wants it to be.