Michigan State÷a model institution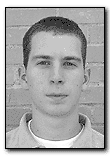 Wildcat File Photo
Arizona Daily Wildcat
Bryan Rosenbaum
What's going on up in East Lansing, Mich.? Not only was there a dead body found in a Michigan State dormitory basement last week, but two of the school's most popular athletes (for both good and bad reasons) are also in the news. The school's athletic probation was also extended two more years by the NCAA earlier this month.
Point guard and preseason All-American Mateen Cleaves had his long-awaited trial dismissed because a key witness was out of the country. Cleaves and former teammate Antonio Smith were accused of stealing a 40-ounce bottle of beer from an East Lansing convenience store in April and later charged with committing larceny for property under $200. Smith also was charged with malicious destruction of property for allegedly breaking open a cooler containing the beer. He must not have known that those things open.
The key witness, and another former teammate, that was in Smith's car, Jason Klein, could not attend the trial because he was playing professionally in Spain. How "convenient."
The trial was dismissed but will be filed again in January or maybe after the season depending on how well the team is doing, wink-wink.
Breathing a heavy sigh of relief is MSU basketball head coach Tom Izzo, who has scheduled his team to play North Carolina, Kentucky, Connecticut, Kansas and Arizona this season. Cleaves decided to stay for his senior season, but that was in jeopardy after stealing the beer. He is off the hook now, at least temporarily.
On Sunday, it was reported that Miami Dolphins defensive end Dimitrius Underwood, a former Spartan, was hospitalized for stab wounds. You may remember Underwood's decision not to play football for the Minnesota Vikings, who drafted him in the first-round despite the fact that he missed all of last season with an ankle injury, because he wanted to devote his life to the ministry. He was later released by the Vikings and then claimed off waivers by Miami, who signed him to a five-year contract.
Yesterday, police announced that the stab wounds were self-inflicted. Underwood, who makes millions of dollars, tried to kill himself by slitting his neck with a knife. And failed.
Despite the many things in his life he has going for him, Underwood has a lot of problems. He was arrested for not paying alimony for his two children and wanted to play football to support his family, but also wanted to devote his life to religion.
Well, he tried to take care of all those problems at once by killing himself.
Cleaves and Underwood are two examples of the wonderful role models that Michigan State University produces.