80 years inside the fire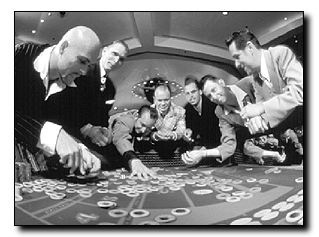 Arizona Daily Wildcat
Courtesy of Royal Crown Revue Royal Crown Revue is the headlining band at the 80th birthday bash at Hotel Congress. The swing band joins several local groups to celebrate the 80th anniversary.
On Jan. 22, 1934, a fire devastated the downtown landmark known to many as "Congress."
Now, the flames that were sparked 65 years ago live on in the downtown hotel that made history in Tucson as a landmark for groundbreakings and rebelliousness.
Keeping up with the rebel spirit that made it famous, Hotel Congress, 311 E. Congress St., celebrates its birthday this Friday night with the slogan "Celebrating 80 Years of Doing our own Thing."
While Congress started out as a pretty typical railroad hotel in 1919, it has expanded to include the popular Club Congress next door.
This funky addition, combined with the adjoining saloon-type bar and quaint caf­ makes Hotel Congress a unique hot spot. Says Mia Proli, director of events at Hotel Congress, the hotel is an important Tucson landmark because "it's been here so long and it's survived."
This Friday's 80th birthday celebration is a formal event featuring music by Royal Crown Revue, Al Perry, the Zsa Zsas and Calexico.
Royal Crown Revue, a "retro swing" band out of L.A., first started playing at Congress about six years ago before they became famous. Now they return to help Congress step into their 80th year.
"I wanted to have a band that's meant a lot to the hotel and we hope that the hotel has meant a lot to them," Proli said of Royal Crown Revue.
They also played at the 75th anniversary five years ago, an event that attracted about 500 fans. For the 80th, the party is expanding outside in the hopes of an even bigger crowd. The crowd normally attracted to Congress's individuality is as unique as the hotel's history itself.
Tiger Ziegler, bartender at Congress for 35 years, puts it best when he says "you get a cross of everything." He's seen it all in his 35 years, and that's exactly what Royal Crown Revue likes in an audience.
Guitarist James Achor says the band has never had a bad show there, because they like to play to a certain community and "Congress is a part of that community."
Tucson is a familiar oasis that Achor said the band feels comfortable in.
"For a town that seems so small, there always seems to be an amazing turnout," he said.
They expect to play a little of everything but promise to do what they think their fans want to hear. With Royal Crown Revue, expect a little twist of something different in the cocktail, though the song remains the same.
It's a band playing for a hotel with a common conviction: to do your own thing and remain true to what you started out with. James Achor said he is honored to play again at Congress, because "they do what they do for all the right reasons."
And do it right they will. Tickets also include a performance by the Big Head Puppet Company - not to mention the free champagne and cake.
Who said nothing exciting ever happens in Tucson?