Because of the perpetually vigilant eye of the public, athletes must monitor their actions on and off the field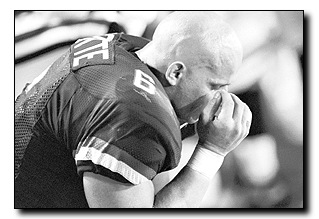 Wildcat File Photo
Arizona Daily Wildcat
Arizona senior linebacker Scooter Sprotte hangs his head during Arizona's 50-22 loss to Stanford. Losing is not the only hardship that athletes must sometimes face as they live their lives in the public eye.
For athletes, "keeping your nose clean" is something senior quarterback Keith Smith said has become a requirement as much as showing up to every practice and giving it his all.
In a world where every action can be scrutinized and where repercussions are buried behind red tape, athletes are under pressure to keep up a good image as in sports, image is everything.
Speak no evil, hear no evil, see no evil
Over the course of the first two weeks of the semester, the local media ran multiple stories about three football players, freshman Bobby Wade, sophomore transfer Zaharius Johnson and sophomore transfer Anthony Banks who were in trouble for stealing money from a UA CatCard office employee.
Yet virtually the entire investigation happened behind closed doors, and the punishment came quickly as the three players were sent to the Dean of Students Diversion Program instead of facing jail-time or a suspension.
The UA athletic department hid its part in the investigation behind FERPA, the Family Educational Rights and Privacy Act, which bars any UA entity from releasing information about a student that is pertinent to his or her education.
"We can't talk open and freely about that process," Associate Athletic Director Kathleen LaRose said. "We deal with it as a privacy issue. We take it very seriously."
Football head coach Dick Tomey said certain disciplinary matters are handled internally all the time by he and his staff and by the athletic director's office.
"We get players from all different kinds of backgrounds and upbringings, and some people have been brought up to have a heightened sense of right and wrong," he said. "We believe people deserve second chances. The easiest thing in the world is to kick someone off the team, but you need to treat them like you treat your children, hug them, but also tell them what they have to do to make things right."
Athletic Director Jim Livengood said he uses examples like the CatCard incident and the attention it received as a learning tool.
"I've said this for 19 years now, in regards to your behavior in some ways, one of the decision-making factors should be to ask yourself if what you're doing is going to be in headlines in the school newspaper," he said. "Most but not all of the time that's a pretty good way to get them to realize how to act."
Living in the public eye
The UA's bigger sports, men's basketball and football, command the majority of media and public scrutiny thanks to their television exposure and overall popularity.
And that means that when incidents like the CatCard case happen, most of the athletes understand they're going to be dragged through the mud.
"It probably would have gotten overlooked" if the people involved were non-athletes, Smith said.
"When you come and play football here you're taking responsibility for yourself off the field, too," he said. "You have to be clean outside of football, clean in the community, clean in the classroom. It's your job, you have to do that. Little kids look up to you, they don't want to see you mess up."
Wade, one of the players found to be involved in the CatCard incident, said he's aware of just how much he slipped up and he's not planning on letting himself forget anytime soon.
"I think in a way it's positive, in a way it could be negative, it's just the way you look at it," he said of how he's dealing with the after-effects of the incident. "In this case I think it's going to be positive for me. You've got to grow up. People make stupid mistakes, people are in the wrong place at the wrong time, stuff like that's going to happen. Unfortunately I was involved, there's no way to get around that."
Wade said he knows incidents like the one he was involved in can give athletes a bad name.
"We don't (often) make mistakes, we don't do bad things, but when it does happen we get cracked down on a lot harder," he said. "That's just the responsibility we have to take."
But for what are minor moments like the CatCard incident, UA athletes know that something much more serious is lurking beneath the surface in terms of athletes' interactions with their fellow students.
Something that became horribly apparent at Columbine High School.
The post-Columbine era
It was reported that the two gunmen who shot up Columbine in Littleton, Colo., last spring said they were targeting athletes.
The ripple effect from that revelation has not been missed by athletes anywhere.
"Some athletes, they think they can't be stopped, in football or outside in the community," Smith said. "Coach Tomey talked to us about this when it first happened. There's always a kid when you grow up, and you bother him, (and) I think that's what the student athletes at Columbine were doing. It ate up at them (the gunmen) so bad, and finally they said hey, we're going to do something."
While Smith said he doesn't believe the situation could be repeated here, for freshmen athletes, dealing with what happened at Columbine isn't easy.
"It made me mad, because that shouldn't be the way it is," said baseball freshman Matt Abram, who came to UA via Chaparral (Phoenix) High School. "At my high school it was a little bit different. All the athletes weren't looked at like that. But my high school was named No. 1 most like Columbine by some Phoenix newspapers. They were all out there and doing all kinds of stories on us."
Abram and volleyball freshman Shannon Torregrosa agreed that without having actually been there, it's just speculation as to why athletes were targeted.
She said some athletes just feel a need to bully others to show off.
"(It's) just because they have that image they're tough, and they try to keep it up," Torregrosa said. "Most of it is yourself, but probably their friends have a lot to do with it. Their friends don't give them much support and they feel the need to act out."
Abram said nothing excuses athletes for treating others badly.
"Some athletes are mean like that," he said. "I would never do that, I think it's totally wrong. You should just try to be the best person you could be. I don't know if they (bullies) think they're being cool, it's just one of those things that people do that's really wrong."