'Loveline' visits UA campus tonight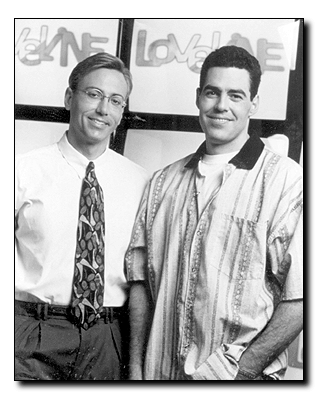 Wildcat File Photo
Arizona Daily Wildcat
Romance advice gurus Dr. Drew Pinsky and Adam Carolla bring "Loveline" to Centennial Hall tonight. They will be answering students' questions about sex and signing autographs after the show.
By Ty Young
Arizona Daily Wildcat,
October 1, 1999
Have you ever wondered what the effects of hard-core narcotics may have on your sexual proficiency? Do you need some advice about your next body piercing? Are you interested in understanding the thoughts of your significant other after they cheated on you - again?
Questions like these will be addressed tonight by the crew of MTV's Loveline, when Adam Carolla and Dr. Drew Pinsky bring their critically acclaimed informational program to Centennial Hall.
"I've listened to Loveline for about four years now," said junior finance student Andy Cole. "I really like Adam Carolla."
Five nights a week, the two team up to take telephone calls from listeners nationwide from the radio studio of KROQ-FM in Los Angeles.
Dr. Drew has been part of the radio show for 14 years and has worked with Adam for the past six.
The dichotomy between the personalities of the co-hosts distinguishes their program from other self-help media programs.
Before starting a career in the radio business, Carolla worked as a carpenter, traffic school professor and taught boxing lessons. His timely humor and quick wit have added a unique dimension to the show.
Dr. Drew is both a board certified internist and a board certified addiction specialist. He is also the medical director for the department of social services at Las Encinas Hospital in Pasadena, Calif.
Loveline has also become a fan favorite on MTV, where viewers can actually see the hosts and their guests.
"I'm going (on Friday) because I watch the show on MTV," said Alexis Zarrow, a family studies junior.
Some UA students share the same views as the listeners and viewers of the show.
"I think Loveline is very beneficial for younger people who need help with their problems," said Jill Roberts, a molecular and cellular biology junior. "It also helps those who are just listening. I think some people can have their questions answered without even having to ask them."
Other students are preparing questions to ask Adam and Dr. Drew.
After reviewing his personal history with the opposite sex, Cole, a finance junior, came up with the following question - "How come guys have a natural tendency to want to be with a lot of girls?"
Michael Taday, a bio-chemistry sophomore, also hopes to get some advice from Adam and Dr. Drew.
"I'd ask them about how to deal with religious differences between myself and my girlfriend. How can we deal with this if we get serious?" he said.
Pinsky and Carolla are also promoting their new book "A survival Guide to Life and Love."
Immediately after the show, there will be an autograph session for the audience.
Tickets are still available for the event, which starts at 8 p.m. Student tickets are $5.00 and can be purchased at Centennial Hall.