UA looks to spoil Wyoming goalkeeper's homecoming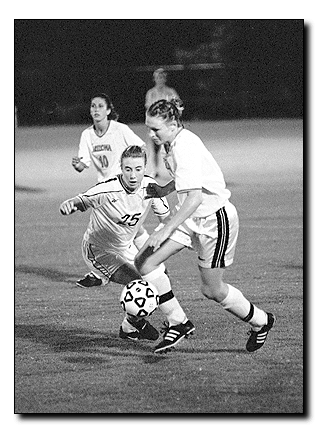 Ian C. Mayer
Arizona Daily Wildcat
UA junior forward Chrissy Sanford (right) dribbles the ball past the Baylor defense, heading for the goal in the UA's last home game. Sanford will drive for the goal once again this weekend as the Wildcats host Pepperdine tonight and Wyoming Sunday.
The UA women's soccer team (4-4-0 overall, 0-1-0 in Pacific 10 Conference) will play a familiar face this weekend when they take on the Wyoming Cowgirls Sunday afternoon at Murphey Stadium at 1 p.m.
Leading the Cowgirls (2-6-1 overall) into battle with the Wildcats will be junior goalkeeper Amanda Vandervort, a Tucson native.
But before that matchup on Sunday, the Wildcats have to deal with the Pepperdine Waves tonight at 7 p.m.
The Waves come into Tucson with a 4-2-1 record and in the midst of a seven-game road trip. They are led by freshman midfielder Tasha Spangler who has three goals and three assists (six points) to her name.
"We are expecting two tough games but we are at home, so that will be an advantage for us," UA sophomore forward Kim McGehee said.
As for Sunday's game with Wyoming, Vandervort's homecoming is something she has been looking forward to for awhile.
"I know she is excited because her mom is still in Tucson," Wyoming head coach Anne Moore said. "She will get to go home for a little while."
UA's junior midfielder Kate Nighswander-Will and sophomore defender Erin Nelson will have the best insight into Vandervort since they were all former teammates.
Nelson and Vandervort went to Sabino High School together and Nighswander-Will and Vandervort played club soccer together for many years.
"We are good friends, it will be intense," Vandervort said. "The number one thing I am looking forward to is seeing my friends, especially the ones I will be playing against."
Vandervort and the Cowgirls come into Tucson riding a two-game win streak.
Wyoming is led offensively by freshman forward Sarah Stephens who has two goals and two assists (six points) and junior forward Megan Marsh who has tallied two goals (four points) so far this season.
Vandervort has played every minute this season and has a goals-against-average of 2.14.
"She is leading the conference (Mountain West) in saves (83), and off the field she is one of our captains. A lot of players look to her for leadership," Moore said of Vandervort's play.
The Wildcats have revenge on their mind, because they lost to Wyoming last year in Laramie, Wyo.
"It was disappointing last year because we should have won the game, and this year we have to win the game," junior goalkeeper Inger Airheart.