Notre Dame joins UA, other scientists in LBT project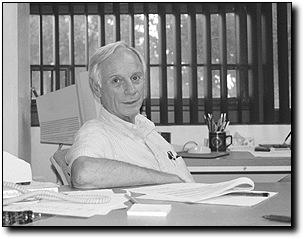 Scott Andrew Taras
Arizona Summer Wildcat
Associate Director of the Steward Observatory, Buddy Powell, said he is very excited about the new edition being made to the telescope on Mount Graham. According to Powell, the two 8.4-meter mirrors will make this the most powerful telescope in the world.
By Irene Hsiao
Arizona Daily Wildcat,
August 25, 1999
UA scientists are teaming up with their counterparts from the University of Notre Dame on an ambitious astronomical endeavor.
The undertaking, called the Large Binocular Telescope project, will create a telescope with two 8.4 meter mirrors on Mount Graham, the most powerful ever made.
Buddy Powell, associate director of the University of Arizona's Steward Observatory, said he is happy about the new addition.
"I was excited, Notre Dame is a very well established, traditional academic school," he said. "It's good to bring high academic standards to the project."
The $80 million project, which began in 1997, is on schedule to meet its 2003 deadline. Powell said no changes have been made since Notre Dame made its announcement last week.
"Everything is continuing as before," he said.
The first of the two mirrors is at the UA Mirror Lab under Arizona Stadium and is set to be delivered to Mount Graham in 2002. The second mirror should follow one or two years later.
The addition of the second mirror will make this project the strongest telescope in the world, Powell said. He compared having one mirror on the telescope to seeing out of one eye.
"It's so much better than what you had before," Powell said. "One mirror will be perfect, but the second mirror will make it the most powerful in the world."
Although the LBT project is going smoothly so far, Powell said students are ready for it to be completed. Other members of the project include scientists from Ohio State University, Research Corporation in Tucson, several German research institutes and one from Italy.
"(The students) tell me, 'Golly, hurry up, get that thing done before we graduate,'" Powell said.
After negotiating for two years to join the project, Terrence W. Rettig, associate professor of physics and astronomy at Notre Dame, said he is ready to improve the school's astronomy program.
"It's a beginning," he said. "We're happy to be able to have access to the equipment."
Notre Dame has a small astronomy program that has expanded since they joined the project. The LBT project was one of the contributing factors for the opening of Notre Dame's new Center for Astrophysics last month.
Rettig said besides bringing stature to their program, being a member of the project also helps recruit more undergraduate students.
"It gives us more leverage to improve the astrophysics program," he said. "LBT is really a fine project - this is a unique telescope and the potential it has for new science is extraordinary."