Mills to backup Canidate at Penn State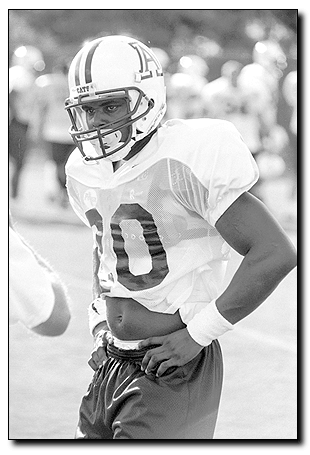 Ian C. Mayer
Arizona Summer Wildcat
Redshirt freshman tailback Leo Mills takes time out of practice yesterday to listen to some pointers from the coaches. Mills was named as senior tailback Trung Canidate's backup for Saturday's game at Penn State.
Redshirt freshman Leo Mills has been named the No. 1 backup behind senior tailback Trung Canidate for the Penn State game on Saturday due to academic problems facing Leon Callen.
Mills signed with the Wildcats in 1998 but sat out his first year due to academic troubles. This year, Mills came to Camp Cochise knowing that he had a legitimate shot at the No. 2 tailback slot because junior tailback Leon Callen, Canidate's backup last year, was having academic problems of his own.
"It came as no surprise," Mills said of his increased role in the offense. "Before camp, they knew about Leon's problems."
During his prep career at Humble High School in Humble, Texas, Mills' 6-foot-2, 215-pound frame and 4.3 time in the 40-yard-dash time demanded college scouts attention.
The National Recruiting Advisor ranked Mills as the No. 3 running back in the country after he rushed for 2,203 yards and 26 touchdowns, his senior year of high school. This ranking makes Mills the highest rated skill-position player that UA has ever signed.
"I'm just happy to get back in the game situation," Mills said of his long layoff from competition.
Running backs coach Jeff Woodruff has been helping Mills assimilate himself into the UA offense and according to junior center Bruce Wiggins, Mills has responded well.
"Coach Woodruff is teaching Leo everything and Leo is learning it all," Wiggins said. "Hopefully we are seeing all the stuff in practice that we will see in the game."
For Saturday's game, Mills said that he will provide help where it's needed, but Canidate is still the No. 1 tailback.
"I feel that I can pick up some slack when I go in, but I'm no Trung Canidate," Mills said. "He's a senior with great experience."
Besides being Canidate's backup, Mills also has to worry about his slightly separated shoulder, an injury that sidelined him for Thursday's controlled scrimmage.