UA researchers look beyond the grave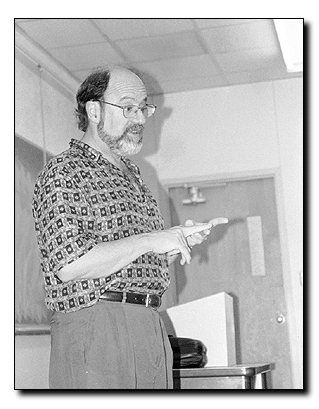 Scott Andrew Taras
Arizona Daily Wildcat
Psychology professor Gary Schwartz lectures to his psychology of religion and spirituality class last week. Schwartz and fellow psychologist Linda Russek will present the research data from experiments with spiritual mediums in a new book and a segment in an HBO special tomorrow.
With a new book and a segment in an HBO special, UA psychologists Gary Schwartz and Linda Russek will unveil their research data and theory to the scientific community tomorrow - a theory which they say will "demonstrate that everything in the universe is alive, eternal and evolving."
Schwartz and Russek teamed up with a group of spiritual mediums to study the possibility of communicating with the dead in a series of experiments in February.
"I am not advocating survival of consciousness," Schwartz said. "I am advocating survival of consciousness research and the plausibility of doing research to discover what's happening."
Schwartz said the data gathered from the experiments presents a scientific foundation for the plausibility of survival of consciousness beyond death.
The data does not prove survival of consciousness, but Schwartz said the results strongly encourage further studies combining science and spirituality.
"(The data) suggests there's something quite anomalous going on," Russek said. "We certainly don't know if it's survival of consciousness per se, but it's consistent."
Psychic 'dream team'
A "dream team" of five spiritual mediums came to the University of Arizona's Human Energy Systems Lab to participate in the scientific experiments designed by Russek. In July, the experiment was replicated with two of the mediums.
"This research is filled with surprises," Schwartz said. "Based on the research designs, we are proposing for the future that evidence-based mediumship is as plausible as evidence-based medicine."
Under scientifically controlled conditions, each of the five mediums gave readings for the sitter and Schwartz said the results were amazing.
The mediums returned information with an average accuracy rating of 83 percent, Schwartz said. A control group that was asked to guess or reason through answers on a questionnaire based on the mediums' responses had 36 percent accuracy.
The mediums tried to communicate with deceased relatives and friends of the sitter and could only ask minimal yes or no questions.
"These are not perfect studies, but they're really, really good," Schwartz said. "The truth is, you have to ignore and dismiss a lot of the data to ignore the veracity of the research."
One of the mediums gave 125 items of information during the sitting, asked five questions and returned an accuracy rating of more than 80 percent.
"There is no way you could attribute this to 'fishing' for answers," Schwartz said.
He said the possibility of statistical coincidence in these experiments is about one in 10 million.
For the experiments, the medium and the sitter were both connected to equipment to monitor their brain and heart waves which can be detected on the other person.
The experiments were designed to minimize communication between the medium and the sitter. The medium sat facing a wall, separated from the sitter by a curtain, while a researcher looked on.
Schwartz said the information the mediums returned was mostly historical facts, including order and causes of deaths.
In combining science with spirituality, Russek said much more can be achieved than if the areas remained apart.
"We can hope to really achieve something much more than if we stayed in our separate domains," Russek said.
The data used for the HBO special was taken immediately after the experiments, but the more extensive data used for the final results was transcribed months later from the raw footage.
"I was expecting that we'd find the results were worse than we thought," Schwartz said. Instead, he said the final results showed an even greater accuracy for the mediums.
Schwartz said this area of science is very controversial and the experiments were carefully designed to be as fair and accurate as possible and for all practical purposes, have ruled out the possibility of fraud or the mediums reading cues from the sitter. Still, he added that he expects to face a lot of skepticism.
"I love informed criticism. We're committed to that - it's the essence of research," Schwartz said. "I strongly dislike criticism where people have not looked at the data for themselves."
"How far are we going to go to dismiss the data?" Schwartz asked.
Universal Living Memory Theory
"The Living Energy Universe: A Fundamental Discovery that Transforms Science and Medicine," written by Schwartz and Russek, will be released in mid-October, by Hampton Roads Publishing.
The book presents the Universal Living Memory theory, developed by Schwartz and Russek, which suggests that "all systems, at all levels in nature, store information and energy at various degrees over time."
"We're exploring some deep questions about what life is like after physical death," Russek said.
Schwartz and Russek originally published the theory under the name of the "systemic memory hypothesis" in scientific journals in 1997.
"This field is really important," Schwartz said. "This work is on a question that is so fundamentally important to people that we have to do it with respect and integrity."
The theory of universal living memory is based on the math of feedback loops, which can predict a whole series of events in all science.
Schwartz said the logic of the systemic memory hypothesis requires the survival of consciousness.
The scientifically-validated theory ultimately leads to the conclusion that a "Grand Organizing Designer (GOD) must exist and be evolving, and that consciousness survives death."
"I'm extremely interested in this - not only is it a scientific question, but it relates to love and human relationships," Russek said. "Never before has science been able to really look seriously at the force of love - whether it is an energy."
'Life Afterlife'
The HBO special documentary, "Life Afterlife," will air Oct. 5 at 4:30 p.m. Tucson time. The 90-minute film features a 12-minute segment devoted to the research of Schwartz and Russek.
Lisa Jackson, producer of the special for Lucky Duck Productions, said she decided to work on the documentary about spiritual mediums because "it was something that was much in the news - it had an abiding interest."
Jackson won an Emmy award for outstanding cultural/informational special this year for a special on ABC News last year, "Secret Life of Barbie."
"Gary is a pioneer," Jackson said. "He was the first and only scientist I found who was working directly with mediums," she said.
Jackson said she chose Schwartz for the documentary primarily because "the other side of science was a little abstract."
Research at Princeton and Stanford universities are not as thorough or scientifically sound as that of Schwartz and Russek, Jackson said.
Some scientists believe this will be the next great realm of discovery, Jackson said. She added that there is a "small tribe that takes science in this area seriously."
"The film is already controversial," she said. "This area is always going to be controversial."
Alfred Kaszniak, UA's acting psychology department head, said the department is supportive of Schwartz's research, as it is of every professor in the department.
"There is no uniform department perspective (on Schwartz's research) other than to say we encourage independence in scholarship and research and academic freedom to pursue whatever kinds of questions they're interested in," he said.
"It's an area that's controversial, to say the least, in science at the moment," Kaszniak said. "The nature of a university is such that we create controversy - that's the nature of scholarship."
The Future
"We believe absolutely there will be a significant increase in this kind of research," Schwartz said.
Schwartz said a Friendly Devil's Advocate committee of other UA faculty and graduate students was developed to insure the work was done with integrity and give feedback to the research.
However, because of the controversial nature of the science, some have requested anonymity because of political concerns, so Schwartz decided to make the whole group anonymous.
"Publicity will be a mixed blessing. It will raise the public's awareness that scientific research in this area is possible," Schwartz said. "Our hope is by raising people's consciousness, there may be a possible benefactor."
Schwartz plans to continue researching this area and present his data to the scientific community, regardless of whether it may support or contradict the possibility of survival of consciousness.
"We're looking forward to spending more time with each medium, to push them beyond just a few minutes," Russek said.
Some mediums will return in December to replicate another series of experiments, but Schwartz said scheduling is difficult because they are all very busy.
On Sept. 23, Schwartz showed the HBO special to his psychology of religion and spirituality class of about 100 people. Even though the film ran for more than 15 minutes past the scheduled class time, nearly everybody stayed.
About 20 of the students remained after class for a discussion that lasted almost an hour.
"Data is much more consistent with survival than just plain death, but it does not verify survival," Schwartz said during the discussion. "Conclusions are based on how we interpret and make inferences using the data."
While Schwartz said interpretations of the data will vary greatly, the research does suggest the possibility of consciousness surviving death.
"If survival of consciousness is true, system science may literally resurrect and revive the belief in God," he said during the discussion.