UA volleyball team stunned by ASU win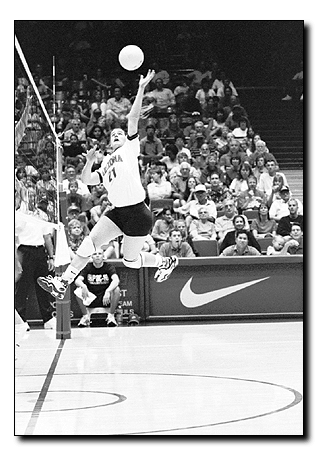 Joshua D. Trujillo
Arizona Daily Wildcat
Sophomore setter Dana Burkholder goes up to the net for a spike during Friday night's loss to Arizona State at McKale Center. Burkholder voiced her displeasure with the Wildcats' play during the four-game match.
By Ryan Finley
Arizona Daily Wildcat, October 4, 1999
Following Friday night's game against Arizona State, UA volleyball head coach David Rubio groaned.
"Now I know how Dick Tomey feels," Rubio said referring to the beleaguered football coach. "It's a bad, bad feeling."
The unranked Sun Devils, losers of eight straight matches to UA, came into Tucson Friday night and defeated the No. 14 Wildcats by the score of 15-12, 15-13, 7-15 and 15-11.
"We were dead in the water," sophomore setter Dana Burkholder said. "We couldn't play defense, and we couldn't score. Enough said."
Friday night's match was marred by poor passing and an abundance of service errors by the Wildcats. In the four-game match, the Wildcats committed 14 service errors to ASU's seven.
"Our passing was terrible, and we couldn't serve," Rubio said. "Arizona State did absolutely nothing to beat us. We practically beat ourselves. We were horrible."
That's one fact both sides seem to agree on.
"We only had a .117 kill percentage on the night," ASU head coach Patty Snyder-Park said. "We just sat back and they made mistakes. The game came down to the fact that we passed and served better than the Wildcats."
One of the few UA bright spots was junior middle blocker Marisa DaLee, who led the team in kills (17), kill percentage (.600) and blocks (3).
"Marisa was awesome out there," Rubio said. "I just wish we would've won the match."
The disastrous match started off well for the Wildcats, jumping out to an early first-game lead.
"We had the best start we've had all year," Burkholder said. "It just sucked that we only went downhill from there."
Unable to stop a Sun Devil offense sparked by outside hitter Amanda Burbridge (16 kills, 9 digs) and unwilling to put the ball away themselves, the Wildcats lost game one, 15-12.
UA wasted another early lead in game two as ASU rallied from a 9-6 deficit to win the game 15-13. The Wildcats were plagued by nine service errors in game two alone, four of them with the game tied.
"We're really young and made some mistakes," Rubio said. "Tonight, for some reason, we couldn't serve. The worst part was that we made these errors at critical points in the match. That's inexcusable."
After a surging 15-7 win in game three, the Wildcats struggled to keep game four within reach, battling through four side outs on the final point. However, mental errors overshadowed UA's momentum shift as the Wildcats lost 15-11.
The victory by the Sun Devils snapped an eight-game UA winning streak over ASU, dating back to 1995.
"This game made us," Snyder-Park said. "It's great to finally beat Arizona. I'm very proud."
Following the game, Burkholder voiced her displeasure with the team's unforced mental errors.
"There was a lack of focus out there tonight," Burkholder said. "Everyone knows how to serve the ball. It's not like defense, where you either know it or you don't. It's simple."
Burkholder also questioned the team's ability to finish strong against the inter-state rival. The Wildcats led all four games at one point.
"It's great if the team plays well when the score's 1-1," Burkholder said. "But if it's 15-15 and we're looking stupid, it's because we can't finish. Certain people just won't step up when the game is tight. I don't understand it. If you can't handle the pressure involved, get the hell off the floor."
UA's setter explained how hard losing to the rival school was.
"Their coach (Snyder-Park) had been saying unclassy things all week and I think we deserve an apology," Burkholder said. "To lose to someone after they question a team's heart, like she did, just makes it sting more. Losing to ASU is just harder on the team than most losses, especially the way we played."
The two teams meet again Oct. 30 in Tempe.
"I'm ticked off, but not worried," Burkholder said. "We just need to pull together, and serve better."