Livengood tells all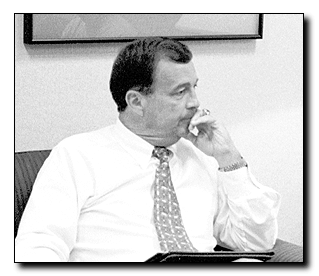 Wildcat File Photo
Arizona Daily Wildcat
Our coaches are doing a much better job in terms of recruiting quality student athletes who can achieve here academically, achieve here athletically and those kind of things. Jim Livengood UA Athletic Director
Wildcat
How would you characterize the current state of UA athletics - men's and women's athletics?
Livengood
Well, I think right now we're in great shape. I think that across the board in all 19 sports we're very competitive. I love the consistency in terms of the coaching we're getting. Our recruiting has just gotten better and better so the quality of our student athletes, both academically and athletically, across the board, I think we're in great shape. Now, I need to kind of clarify that a little bit. I think we can get better, too. But what I'm seeing right now is increased recruiting. Our coaches are doing a much better job in terms of recruiting quality student athletes who can achieve here academically, achieve here athletically and those kind of things.
W: What would you say are the biggest challenges that face the men's and women's sports teams?
L: I'm not sure that there's a difference in the two of them - I think it probably would be the same thing, and it's not the answer that people want to hear. Our biggest problems have a lot to do with finances. We provide almost 95-96 percent of our entire funding - we have to raise that each year. In terms of keeping our programs to the level that they are right now and even going higher, takes funding. Then, when you add in there all kinds of capital projects - any maintenance that needs to be done, any building that need to be done, athletic facilities - and I'm not complaining, I'm just saying the way it is, it is going to be done by athletics (the department). So that part of it puts a tremendous burden on us as we look in the future. And that is not a gender issue, because it's not any different for the women than from the men... that's just for all intercollegiate athletics. And quite honestly, we don't break it down. We look at our program as 19 athletic programs. The fact that we have 11 sports for women and eight sports for men just happens to be the way it breaks down. We look at it as a 19-sports program.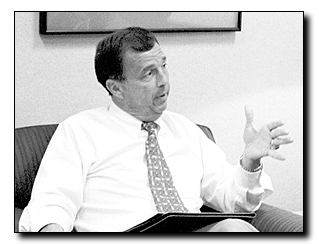 W: How has Title IX (the NCAA gender-equity requirement) affected the UA for men and women athletes?
L: I think Title IX has been tremendous for the UA. Obviously my predecessors, both from an athletic standpoint and also the two (UA) presidents that have served during the time I've been here, have been extremely committed to Title IX. They've been extremely committed to making sure that every student athlete in here is treated equitably and has the same opportunities regardless of gender and regardless of ethnicity. Title IX has been a blessing. I think Title IX has been a wonderful thing for intercollegiate athletics. I think it's the right thing, right time, and I'm excited that the UA, not just athletics, but the UA has embraced it as much as well.
When I visit with colleges from across the country, I don't sense any of the frustrations that some schools do with regards to 'well, we're going to do it, but it's not our first choice,' or 'yeah, we'll do it because somebody's making us do it.' No, the attitude here has been we're going to do it because it's the right thing to do for all 19 programs. Our women's program is just as important as our men's program. I think our student-athletes really sense that as well.
W: Are you pleased with the direction of our football team right now, and with Coach Tomey and his staff?
L: Yeah, I'm very pleased. Would I like to be 4-1 or 5-0? The answer is yes. We're not 5-0 or 4-1 - we're 3-2. But I'm pleased in the direction. I think the last week was a really good week for us in terms of going back and doing a number of things fundamentally. Dick and his staff are doing a great job. Sometimes we, and I mean we generically, are so quick to jump off a bandwagon and then back on, and so on and so forth. It's really incredible.
I tend to look at things over the long haul and I always have. At the end of the year, after we've played 12 regular season games, then let's look at it, and that's what we do. Dick and I sit down - I do it with every coach - we sit down and we evaluate the season in terms of what has happened and what's going on and those kind of things. So that part of it is at the end of the season.
I was reminded of this watching the ASU-UCLA game last week and particularly in the fourth quarter where it just absolutely looked for certain that ASU was going to lose that game to UCLA. Different comments by different people, not necessarily always broadcasters, were 'Oh my golly, look at the start they're going to have and look at this, they're going to be 1-3.' Then, on one play at the end of the game, they win. Does that mean they were better coached? No, that just means that's what athletics is all about, that things can change and I think that part of it - that's part of my job, part of our coaches' job - is the resilience. I'm interested in learning how our coaches and how our players handle being 3-2 right now when the perception might have been that they could have been better than that. Not should have been, but could have been. So, yeah I'm pleased, but it's a relative kind of thing. I'm excited about (the USC game) on Saturday, too.
W: You mentioned ASU and UCLA. What school do you hate the most in the Pac-10?
L: There's not any school that I hate in the Pac-10. I don't think that's in my nature, because I've been to two of the 10 schools (Washington State and Arizona). Obviously, I've been through a rivalry with Washington and Washington State, and now the rivalry with Arizona and Arizona State. There are probably some schools that are less favorable than others, but I don't hate any. I enjoy the rivalry here against ASU as much as any rivalry I've ever been part of, but I want it to be played on the field and on the court - I want it to be competitive, and I definitely want the Wildcats to win.
But, kind of stop there because at the same time, (ASU athletic director) Kevin White is a good friend and Kevin and I have tried to do a lot of things, sometimes out of the public eye because sometimes the public wouldn't understand that, but we're both trying to do the very same thing. He's trying to do the best thing for his young people and I'm trying to do it for ours. I realize I haven't answered your question, but that's probably not my nature to say.
W: In the Pac-10 this year, Stanford comes to Tucson and beats us, goes home and beats UCLA, and then loses to San Jose State. UA and UCLA had trouble playing Big-10 teams, and ASU lost to New Mexico State. Is there a problem with the Pac-10?
Livengood: That's a really consuming question and there's so many different answers to that. I don't think there's any one thing. I think it's very cyclical. If you look at the schedule... most of the games you're talking about, non-conference games, are big ones that have been played on the road. New Mexico State wasn't and San Jose wasn't, but when we're talking about Penn State and Ohio State, next year those games become home games.
We could go out in the bowl season and we'll have five or six teams in bowls. If we go out and win five of six bowl games... immediately they'll go back and say, 'By God, how did the Pac-10 get so much stronger in just a month?' That's how cyclical it is. I don't think it's any major thing we're not doing. I think that's the nature of the time.
In college football, the hardest thing for people to understand now is that parity is here. That's why Alabama goes into The Swamp (nickname for the University of Florida's Ben Hill Griffin Stadium at Florida Field) and beats Florida, that's why Memphis almost beats Tennessee at Tennessee, that's why Georgia almost gets beat by Central Florida. That is extreme parity. Those kind of games would have never happened five, six, seven years ago. That's good for college football.
This is going to turn out to be a great Pac-10 race. I really think it's highly conceivable that... the team that wins the Pac-10 might not have just two losses, they might have three losses. Stanford is 3-0 (in conference games) and still has to play five games. If you look at the five games they've got to play, there is no game they're going to play... that you can say, 'You know what, that's a definite win right there.' That's crazy. It's the same way with our schedule. We're capable of winning all seven games. I'm not a very good prognosticator, I found that out a long time ago, but I think it really is cyclical in terms of the fortunes of the conference.