pipe dreams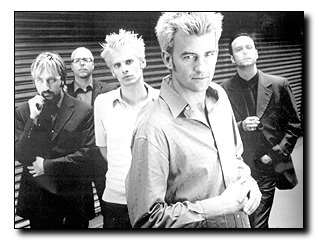 Arizona Daily Wildcat
Photo Courtesy of RCA Records, photo by Kevin Westenberg The Verve Pipe performs in Scottsdale at the Martini Ranch this Friday. Band members from left to right are: Doug Corella, Donny Brown, Brad Vander Ark, Brian Vander Ark and A.J. Dunning.
By Ty Young
Arizona Daily Wildcat,
October 6, 1999
Fresh off the release of their second major-label album, The Verve Pipe bring their college rock tunes to Scottsdale's Martini Ranch on Friday night.
The band is near the end of an eight-month tour, which began in May. On July 27, the band's self-titled album hit music stores nationwide.
Villains, the band's first major-label album, debuted in 1998 and met great success.
The most popular song from the album, "Freshmen," topped the billboard charts, while "Photograph" was also a fan favorite.
Though fans await The Verve Pipe's sophomore release with great anticipation, the band is taking it in stride.
"We're very happy with the new album," said drummer Donny Brown. "We don't have any expectations, though."
Their first single, "Hero," has received radio play since its release, as well as video play on MTV.
Despite this, the band was critical of both the radio and MTV.
"We don't see eye-to-eye with what's going on (the radio)," said drummer Donny Brown. "Either you're a Dave Matthews or Limp Bizkit clone."
Although their video can be seen on MTV, Brown expressed concern with the direction and content of the music television station.
"MTV really isn't playing much music anymore," he said. "It pretty much focuses on hip-hop, R&B and the boy bands."
According to Brown, the entire band took part in writing the songs and music for the new album.
"We all write songs, although Brian (lead singer Brian Vander Ark) writes the majority of them," he said. "After we write something, we'll bring it to each other and make changes."
All the members of The Verve Pipe hail from Michigan. They met while Brown was attending Michigan State University, though he eventually dropped out to play music professionally.
"We are all from Michigan, but I was the only one who was attending college," Brown said. "We were all in different bands and kind of just came together."
On Sept. 22, the band sang the national anthem before the Detroit Tigers final baseball game in Tiger Stadium.
"It's bittersweet really, similar to being asked to sing at a funeral for a friend," Vander Ark said. "It's a tremendous honor, though I'm sorry to see it go."
The band is currently in Boulder, Colo. Brown said the tour has been very tiring, but the band has enjoyed it so far.
The show starts at 8 p.m. at the Martini Ranch, 7295 E. Stetson Drive in Scottsdale. The German band Guano Apes will open.