'Sesame Street' still entertains 25 years later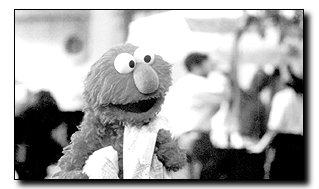 Arizona Daily Wildcat
Photo courtesy of James Bridges
"Sesame Street's" lovable little red monster, Elmo, makes his major motion picture debut in Columbia Pictures' new film "The Adventures of Elmo in Grouchland," which opened last week in theaters everywhere.
It's really difficult not to love Elmo. He's sweet. He's polite. He's fuzzy. Watch him as he sleeps curled up with his favorite blanket. It's very hard to not like the little guy.
Okay, perhaps "The Adventures of Elmo in Grouchland" is not the most ideal movie for college students. The movie opens with Ernie and Bert encouraging the audience to "talk and play along" with Elmo. The film is also interrupted during any 'tense' moments by the duo who reassure the audience members that Elmo will persevere. (Although not exactly in those terms. It's more like "Elmo's got something good inside of him that won't let him give up.")
But, for a generation that grew up on "Sesame Street", "Elmo" can be pretty fun to watch. For one thing, viewers finally get to see inside Oscar's trash can. As a child, one of the most frustrating things to deal with was how Oscar could have elephants and worms and junk, all in a garbage pail. Now fans can see that he's actually got an expansive living space down there. Sadly, the movie does bring back other frustrations from days gone by. Namely, the lack of a Snuffy cameo among numerous other characters like Super Grover, Telly Monster and the Honkers, revives all the old angst over the adults' former disbelief in Snuffalupagus.
Another treat is to see how the residents of Sesame Street have fared over the years. It's not too pretty. For example, look at Bob, the "white male" representative in the neighborhood. The man looks about 70 years old - but he dyes his hair jet black. You have to wonder if he's contractually bound to become another Mr. Hooper.
Story wise, it's a cute film. Elmo's blanket gets sucked into Grouchland and the little red monster has to travel there to save it from the evil greedy Huxley (Mandy Patinkin). By the end of the film, Elmo learns an awful lot about the value of sharing.
Unfortunately, the movie is a quasi-musical and exposes a whole new generation of viewers to the annoying falsetto singing voice of Patinkin. At least Vanessa Williams' turn as the Queen of Trash negates the damage done a little bit.
For those audience members who enjoy an "alternative lifestyle", there is a really nice swirling rainbow tunnel that transports Elmo from Oscar's can to Grouchland. Bert and Ernie cut in the scene to reassure the kids that Elmo's okay - but adults are free to make their own interpretation.
"The Adventures of Elmo in Grouchland" is cute, funny and endearing. It's great for little kids and remains entertaining no matter how old you get. What else is there to say? The "Sesame Street" gang has been around over twenty-five years now - they're obviously doing something right.