Chills and thrills abound at Nightfall VIII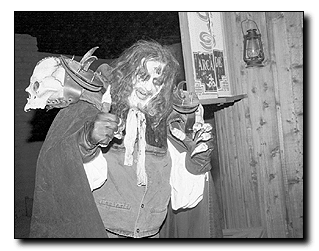 Randy Metcalf
Arizona Daily Wildcat
Kurt Booth, otherwise known as Silas Reaper, walks around Old Tucson during NightFall VIII, Saturday night. Last year, Booth was voted the scariest aspect of NightFall.
Hearing some screams from the Tucson desert?
Gates Pass is the last chance to turn back. After that it's just a straight drive down East Speedway Boulevard to Old Tucson Studios, where any of Nightfall's spooky creatures may be lurking around.
With Halloween looming in the air, Old Tucson Studios once again provides some chilling entertainment with Nightfall, a yearly celebration consisting of Halloween-related exhibitions and other attractions.
With 408 staff members involved in this October's festivities, the University of Arizona makes a good showing. From acting to directing to simply walking around scaring little kids throughout the park, UA representatives can be found everywhere.
This year's performances range from an action-packed stunt show in "Vengeance Unleashed" to a comedic bag of tricks with the "Abra-Cadaver" Magic Show, both of which feature scripts written by UA theater arts adjunct faculty member Mike Solomonson.
Solomonson enjoys a change of pace from his university duties while taking part in almost every aspect of Nightfall's production of "Vengeance Unleashed," in which he plays Dr. Jebediah Hyde, a Nightfall favorite.
Another UA talent, theater arts sophomore Chrissy Lewis, entered the cast after Solomonson suggested that she audition.
As Olivia Spinetingly in the "Abra-Cadaver" Magic Show, Chrissy shows off her dance moves, disappearing acts and a little leg in her sultry, witch-like gown. "She's kind of a wacky, sexy, very star-struck character," says Lewis.
Miss Spinetingly shares the stage with the Great Mordecai as he searches for his long lost brother. She also performs musical renditions with Elvis, and Sonny and Cher look-alikes as part of the show.
When Silas Reeper, a three-headed ogre, is not chasing down frightened youngsters at Nightfall, he is Kurt Booth at his day job as administrative secretary at UA's Electrical and Computer Engineering building.
Voted two years in a row by Nightfall's fans as the "scariest thing in the park," Silas' eyes are also featured on various billboards throughout Tucson, inviting people to be a part of Arizona's biggest Halloween party.
Standing at six feet eight inches, plus an extra two with his specially made haunting shoes, Booth says Halloween is the "one time of year I get to go out and scare people."
Between his towering height and terrifying costume, he shouldn't be too hard to spot. Booth warns his victims: "Just look for the scariest and biggest thing in the park and that will be me."