Back on track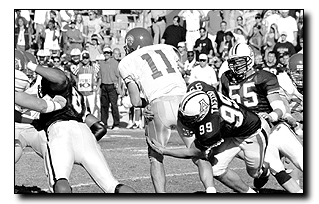 Matt Heistand
Arizona Daily Wildcat
Junior defensive end Joe Tafoya sacks USC junior quarterback Mike Van Raaphorst with junior defensive ends Mike Robertson (55) looking on and Idris Haroon fighting off a blocker. The Wildcats sacked Van Raaphorst seven times and held the Trojans to minus 20 yards rushing in their 31-24 victory Saturday afternoon.
All season long the UA football team has been living in the shadow of the 1998 squad. Living up to a team which went a school-best 12-1 seemed to be too difficult for the 1999 Wildcats, who stumbled to a 3-2 start.
But after Saturday's 31-24 win over USC, a game that wasn't as close as the score indicated, Arizona (4-2 overall, 2-1 Pacific 10 Conference) now has something else to point to as an example of what the team needs to do to win.
"We need to continue to work hard," UA senior wide receiver Dennis Northcutt said. "Now we've got something. We kept looking at last year we had this, last year we had that. This is what we've got. This is what Arizona football is all about. We need to add on to this. It's not over, it's a start for us."
Northcutt, playing both offense and defense, played a big part in the Wildcats' win over the then-No. 22-ranked Trojans (3-2, 1-2).
Arizona dominated in almost every category, beating the Trojans 271 - 550 yards. The Trojans had 20 yards rushing, whereas UA had 307 yards.
"No doubt, I'd just like to give the most credit to the defense and the offensive line," UA senior running back Trung Canidate said. "We came out and put up some numbers on the ground, and our defensive line shut them down."
The Wildcats' offensive line overpowered USC's defensive line repeatedly. UA senior right tackle Manuia Savea said the line's fire came in part from learning about the Trojans' penchant for stopping the run.
"We went in having a feeling that this was the No. 1 defense in the Pac-10 rushing, and that's our biggest challenge right there," he said. "We've got to go in and make sure we do our job. The man Trung, was doing his job and we were doing our job. We opened up the holes, and he took off."
Canidate rushed for a season-high 194 yards on 31 carries and one touchdown. The bye week helped Canidate, who has been suffering from tendinitis in both knees for much of the season.
"This week off helped the Arizona Wildcats as a whole," he said. "I'm still trying to climb, to get there to help this team win."
Senior quarterback Keith Smith helped the yardage on the ground by piling up 79 yards, most of those coming on his 57-yard first quarter scamper for a touchdown.
"We understood that their linebackers weren't going to blitz us when we went 'ghost' and had no backs in the backfield," Smith said of the play. "On film, a lot, especially against Oregon State, their linebackers would run into man coverage and drop into zone in the middle of the field. It was so wide open I couldn't believe it. I said they can't give me that or I'm going to take it to the house, I promise you. I said if we run that play it's over."
Smith was also 15 for 23 for 243 yards and he threw a touchdown pass to Northcutt (8 receptions, 121 yards, 1 TD) to tie the game 17-17 after USC had gone up in the third quarter.
USC head coach Paul Hackett said it was Northcutt's play making ability that took the wind out of his team.
"Then Northcutt goes and makes about nine guys miss and then he caught that huge touchdown in the corner," Hackett said. "I think that at that point we kind of deflated. He is a game-turner, one of the best."
Northcutt was pleased with the win over his hometown team.
"It feels really good," he said. "For me it was an emotional game, like playing Arizona State. I know what SC ball is all about, so it was real big for me. I really wanted to win it."
Northcutt also played cornerback during the game, lining up opposite USC senior wide receiver R. Jay Soward for much of the afternoon.
"He wasn't saying nothing, he was shocked," Northcutt said of Soward's reaction to his shift to defense. "He kind of laughed and smiled at me. He thought this might be pretty easy."
It wasn't, though, as Soward had only three catches for 29 yards on the day before leaving the game after suffering a concussion blocking on a punt return.
After Canidate's touchdown put UA up 24-17 in the fourth quarter, the Wildcats went for the jugular. The final blow fell when UA senior cornerback Kelvin Hunter scooped up a fumble by USC junior quarterback Mike Van Raaphorst and ran it in 24 yards for the Wildcats' final score.
In the end though, the Wildcats aren't about to overlook the remaining teams on their schedule.
"You've always got a lot of improvement to make," UA head coach Dick Tomey said. "There are many things in all phases that we can do better. But the win was a big start to being a good team."