Wildcats sweep WSU to complete perfect weekend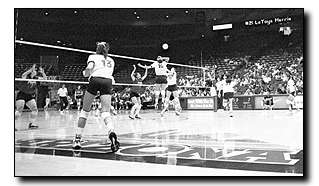 Wildcat File Photo
Arizona Daily Wildcat
Freshman middle blocker Stafani Saragosa goes up for the spike as sophomore Dana Burkholder (21), freshman Lisa Rutledge (13) and sophomore Jill Talbot (32) look on during Friday night's match against Washington State in McKale Center. The Wildcats swept the Cougars thereby completing their sweep of the Washington schools this weekend as they beat UW on Thursday night as well.
By Ryan Finley
Arizona Daily Wildcat, October 11, 1999
The UA volleyball team swept Washington State Friday night by the score of 15-15, 15-11 and 15-5, thus completing a weekend sweep over both Washington schools. The Wildcats swept Washington Thursday night as well.
"We really played well together," junior outside hitter Jill Talbot said. "Our play feels better, smoother. We needed this sweep."
The Wildcats (11-4 overall, 5-2 Pacific 10 Conference) made quick work of the Cougars, sweeping them in three games. UA scored 12 straight points in game one to finish off WSU by the score of 15-5.
"We had momentum," sophomore setter Dana Burkholder said. "It was just a matter of improving our passing and our offense clicking."
The Cougars (7-7, 2-5) failed to threaten UA in games two and three, as the Wildcats notched their second-straight Pac-10 victory. Junior middle blocker Marisa DaLee was 12 of 19 from the field, leading all scorers with a .632 kill percentage.
DaLee was quick to point out the team's attitude change since a loss to ASU last weekend.
"We had a team meeting and worked a lot of things out," she said. "To play back-to-back matches and not lose a game is a good sign."
The offense ran as well as it had all season, and this success gave them a .382 hitting percentage.
"We played exceptionally," UA head coach David Rubio said. "We needed the momentum after the loss to ASU."
Burkholder had 43 assists and six digs, acting as the team's general on the floor.
"Dana got us going tonight," Talbot said. "We were jumping around and having fun. She really helped us finish them off."
The team's lone senior, Raelene Elam, chipped in with 12 kills as well.
"Rae(lene) hit .308 tonight, and that's a good sign," Rubio said. "She's playing really well lately."
The Wildcats head to Northern California next weekend for matches against Stanford and Cal.
"As far as next week is concerned, we can't put all of our eggs in one basket," Rubio said. "Although Stanford is going to be a huge match, we're concerned about playing Cal. They have a new enthusiasm for volleyball in Berkeley."