Activists seek UA awareness, release of Native American political prisoner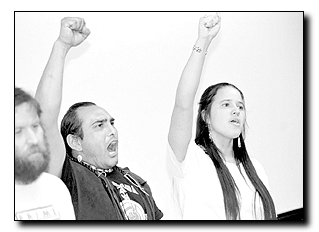 Joshua D. Trujillo
Arizona Daily Wildcat
Floyd Moose, a Lakota Indian, and UA independent studies junior Pennelys Evening Sky-Droz, an Anishinabe Indian, voice their disapproval of the treatment of fellow American Indian Movement activist Leonard Peltier. Moose spoke as a panelist discussing contemporary Native-American issues during anti-Columbus Day events sponsored by Native American Student Affairs, AmerInd Student Club and Amnesty International.
Amnesty International advocate and panelist Joel Watkins recalled a day when his six-year-old daughter said she wanted to raid the school and gather people to be slaves.
Her idea was to show what Christopher Columbus had done to the Natives when he arrived in America in 1492.
His daughter joined with other six- and seven-year-olds to form what Watkins called a "resistance for about fifteen minutes," proving that even youths are capable of understanding the history behind Christopher Columbus Day.
"We like to promote human rights, we like to educate, we like to think of human rights as independent and indivisible," said Watkins, who is also a University of Arizona math professor, about the Amnesty organization. "That's what we are trying to do today, we're trying to educate."
Watkins joined several other activists to protest and discuss atrocities in response to the nationally-celebrated Columbus Day.
Last night Amnesty's panel discussion and an early afternoon petition signing proposed to educate people about atrocities the U.S. government committed against Native Americans before and after the American Indian Movement in the late 1960s.
"Women were raped all of the time. People who were thought to be affiliated in any way with the American Indian Movement - their houses were burnt down," said media arts senior Ella El-Issa.
"The American government got real paranoid over the fact that Native Americans started fighting for their civil rights... and they weren't getting any results because of all the red tape in the bureaucracy."
The focus of Amnesty and the Native American Resource Center's event centered on political prisoner Leonard Peltier and issues surrounding Columbus's discovery of America.
Peltier, a Native American from the Pine Ridge reservation in South Dakota, was sentenced 22 years ago to serve two life terms after he was convicted of murdering two FBI agents.
"He has been in prison for the last 22 years because the federal government thinks that he killed two FBI agents but the evidence is very inconclusive and the forensics tests don't match up," said Greta Taylor, a UA graduate and member of the organization.
The organization displayed a hand-painted image of Peltier and background information about his conviction on the UA Mall yesterday to empower the community to sign a petition asking President Clinton to release Peltier.
"We're kind of hoping, in his last month, he'll sign something," said Rachael Moshman, anthropology senior.
Clinton, who in 1992 said he would look into Peltier's conviction, has yet to follow up on his promise, said Bruce Meyers, director of Native American Student Affairs at the UA.
"I'm very glad that Leonard's getting some attention but he's been getting attention for 22 years," said Noel Speece, Amnesty member and one of last night's four panelists.
"Maybe Amnesty will make a difference. Maybe it's about people of all colors joining together."
Speece spoke of a teacher and activist in the American Indian Movement who was brutally murdered by officers.
She was "a school teacher activist who was found with a bullet in the back of her head," said Speece, holding back tears. "They cut her hands off so they could identify her, that's what they said - they said she died of exposure out in the cold."
He said there have been many similar punishments committed against Natives - atrocities that have yet to be stopped.
"The fact is Europeans didn't stop killing Indian people 200 years ago, they're still killing Indian people and taking land," Speece said. "They're still trying to take all the rest of what's left."
Despite efforts made by the government, panelist Floyd Moose, who is also affiliated with the American Indian Movement, said AIM lives on.
"The movement is still active. AIM never quit, AIM never disappeared, AIM is always here and we're still here and we're always here," Moose said.