ASU loses Redmond to injury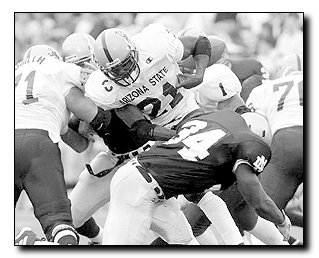 Associated Press
Arizona Daily Wildcat
Arizona State's senior running back J.R. Redmond loses the football as Notre Dame's Ronnie Nicks knocks it out of his hands in the Irish's 48-17 victory on Saturday. Redmond re-injured his shoulder during the game and will be tested this week to see how serious the injury is.
Notre Dame manhandled Arizona State 48-17 on Saturday, adding to the Sun Devils' woes.
The Irish shut down J.R. Redmond and the Sun Devil rushing attack, while Notre Dame quarterback Jarious Jackson passed for 223 yards and rushed for 93.
Perhaps even more damaging to the Sun Devil team were two injuries to key players.
Heisman Trophy hopeful J.R. Redmond re-injured a separated left shoulder and will undergo testing to determine the severity of the injury. Sun Devil free safety Craig Koontz will also undergo testing for a knee injury, and his status should be updated today.
After losing 12 consecutive games dating back to last year, the Washington State Cougars have won two straight games including a win on Saturday against Louisiana-Lafayette.
The Ragin' Cajuns, who rank last in the nation in total offense, rarely penetrated into Cougar territory in the 44-0 loss.
WSU quarterback Steve Birnbaum passed for 223 yards on 11 of 19 passing before exiting early to give backup Paul Mencke a chance to beat up on the Cajuns.
Cougar freshman running back Deon Burnett had a career day, rushing 110 yards and four touchdowns.
Two years ago, the Cougars beat the Ragin' Cajuns 77-7.
The Oregon State Beavers turned the ball over seven times in a 47-21 loss to a surging Washington team.
The Huskies took advantage of six Beaver turnovers in the first half to go into half-time with a 45-0 lead. Oregon State committed 10 penalties in the half for 107 yards. Husky running back Willie Hurst rushed for 108 yards and two touchdowns against a Beaver team plagued by penalties.
The Beavers scored 21 straight points in the second half, though, against predominantly Washington reserves in a six-minute period. The effort was too little too late as the Huskies hunkered down and didn't allow the Beavers another point.
Beaver running back Ken Simonton, the nation's second-leading rusher, is averaging 171 rushing yards-per-game this season although he was only able to muster 106 against the Huskies. Simonton has six consecutive 100-yard games dating back to last season.
The win is the Huskies third straight after beginning the season with two consecutive losses.
The Oregon Ducks scored three touchdowns in the first three minutes of the fourth quarter but couldn't overcome the UCLA Bruins, losing 34-29.
Bruins quarterback Cory Paus passed for a career-high 332 yards and two touchdowns to help extend the Bruins regular-season winning streak at home to 13 games. Paus began the season as UCLA's second string quarterback, but injuries have forced first-stringer Drew Bennett to remain sidelined.
Bruin receiver Danny Farmer also had a career day, catching seven passes for 196 yards and two touchdowns. UCLA kicker Chris Griffith booted field goals of 47 and 48 yards in the second quarter to contribute to Bruin victory.